PAST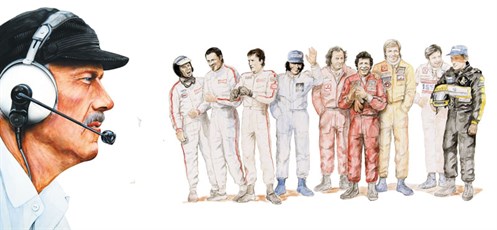 The Spirit of the Marque

Team Lotus is one of the greatest ever motor racing teams. The 'Team' represents the spirit and dedication of hundreds of brilliant people who have worked together so well to achieve so much.
The Le Mans Index of Performance, 74 Grand Prix wins, the Indianapolis 500 and World Championships of Drivers six times and Constructors seven times along with countless wins and Championship titles in other categories.
Brilliant innovations that led the way in all aspects of racing car design and that so often forced the other teams to head back to the drawing board.
The Works F1 Drivers
Team Lotus Works F1 drivers such as Innes Ireland, Jim Clark, Graham Hill, Jochen Rindt, Emerson Fittipaldi, Ronnie Peterson, Mario Andretti, Gunnar Nilsson, Elio de Angelis and Ayrton Senna who competed in over 10 GPs...
read more
The Early Years 1950's
The history of Team Lotus and its racing cars is inextricably linked to innovator extraordinaire, Colin Chapman. A brilliant structural engineer, Chapman ranks with Enzo Ferrari in the pantheon of road and race car designers...
read more
The First World Championships 1960's
Monaco 1960 saw the first GP win by a Lotus. In a privately entered type 18 Stirling Moss drove a legendary three hour race to victory...
read more
The Black and Gold Era 1970's  
The venerable type 49 started the 1970 season, heavily developed with inverted wings to create downforce and with much wider tyres enabling it to corner more quickly...
read more
Continuing to Innovate 1980's
Team Lotus shook F1 with its type 88 twin chassis design, the ultimate ground effect concept. Chapman was adamant that it complied with the letter of the law but the increasingly political environment saw the car banned...
read more
The Early Years 1990's and beyond
In a bold move the team signed Mika Hakkinen who proved to be a great talent. The striking type 107 that raced in 1992 was followed by the 1994 type 109 that displayed real potential in the hands of Johnny Herbert at Monza...
read more 
Celebrating 20 Years of Classic Team Lotus
In 20 years CTL has achieved a huge amount in terms of restoration, competition, merchandising and licensing. We have restored 50 Team Lotus racing cars, including 38 F1 and Indycars...
read more
Did You Know...?
Over the years we have gathered interesting facts and stories surrounding the team. Periodically we will add another...
read them