The Early Years: 1970's
Team Lotus Keeps Winning
The venerable type 49 started the 1970 season, heavily developed with inverted wings to create downforce and with much wider tyres enabling it to corner more quickly. Chapman consolidated the rapid developments in aerodynamics and tyres with the beautiful type 72 design. High downforce, low drag and high grip made it another Lotus world beater that raced for six seasons, winning 20 GP, two Drivers' Championships and three Constructors' Championships (1970, 1972 and 1973). Tragically Jochen Rindt's title was posthumous after his death at Monza. The young Emerson Fittipaldi rose up to the challenge of securing the title for Jochen. Emerson went on to become the youngest ever Champion in 1972.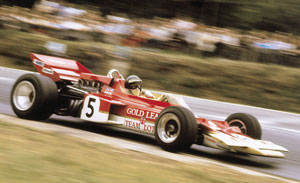 Jochen Rindt (above) in the early days of the type 72 that raced for six seasons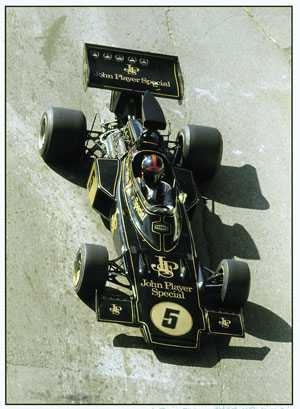 In the late 60s Chapman had introduced commercial sponsorship into the sport when the Lotus racing cars changed from green and yellow to the Gold Leaf livery. Sponsorship really took off in the 70s and the stunning black and gold JPS Lotus type 72 led the way. Corporate branding, a press office, a dedicated paddock motorhome and smart merchandising led the way. More money enabled Chapman to realise more of the team's potential and Team Lotus went from strength to strength. The creed was 'If you're not winning you're not trying!'.
Emerson Fittipaldi in 1973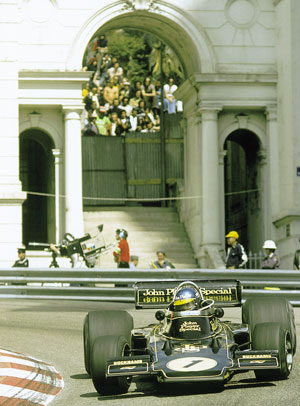 A period of relative quiet provoked the team into a fundamental review of F1 car design that resulted in the ultimate Team Lotus 'Unfair Advantage' namely Ground Effect. With a minimum drag penalty very high downforce was created by channelling the under-car airflow through venturi under the sidepods and protecting the resultant low pressure area with side skirts that trailed on the track surface. This design concept could not be readily copied. Furthermore the V configuration of the Cosworth DFV engine increased the available downforce unlike the flat 12 engine layout of arch rival Ferrari. In 1978 Mario Andretti and Ronnie Peterson were virtually unbeatable in their Lotus type 79s. Once more the Team was so confident that race victory decals were printed before each race so that they could be slapped on as the drivers sprayed the champagne. However the excitement was brought to an end when Ronnie died as a result of a startline accident at Monza.
Ronnie Peterson en route to victory at Monaco 1974 (right)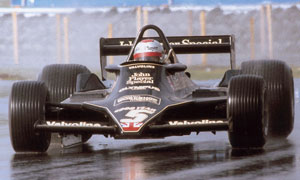 Mario andretti in 1978, the last Team Lotus World Champion (above)
The team entered a difficult period as Chapman attempted to take ground effect design as far as possible while its rivals concentrated on creating better versions of the type 79. Chapman wanted to realise the next big step that once again would put Team Lotus far ahead of the competition. His victory trademark of throwing his hat high in the air had become recognisable the world over and he was keen to keep at it.