News Headlines
The Eddie Dennis Elan +2S 130
Lotus Elan +2S 130 reg: HNG 841L was purchased new by Team Lotus Chief Mechanic Eddie Dennis directly from Lotus Cars Ltd. in August 1972. Having sold the car in 1974, Eddie bought it back in 2007 and set about restoring it to its original condition. After Eddie sadly passed away in 2017, the restoration was taken on by his family and completed in late 2021. With the spring weather improving daily, last week Eddie' family brought HNG 841L to CTL for an emotional return to Hethel, 50-years after they had first ridden in the car with Eddie.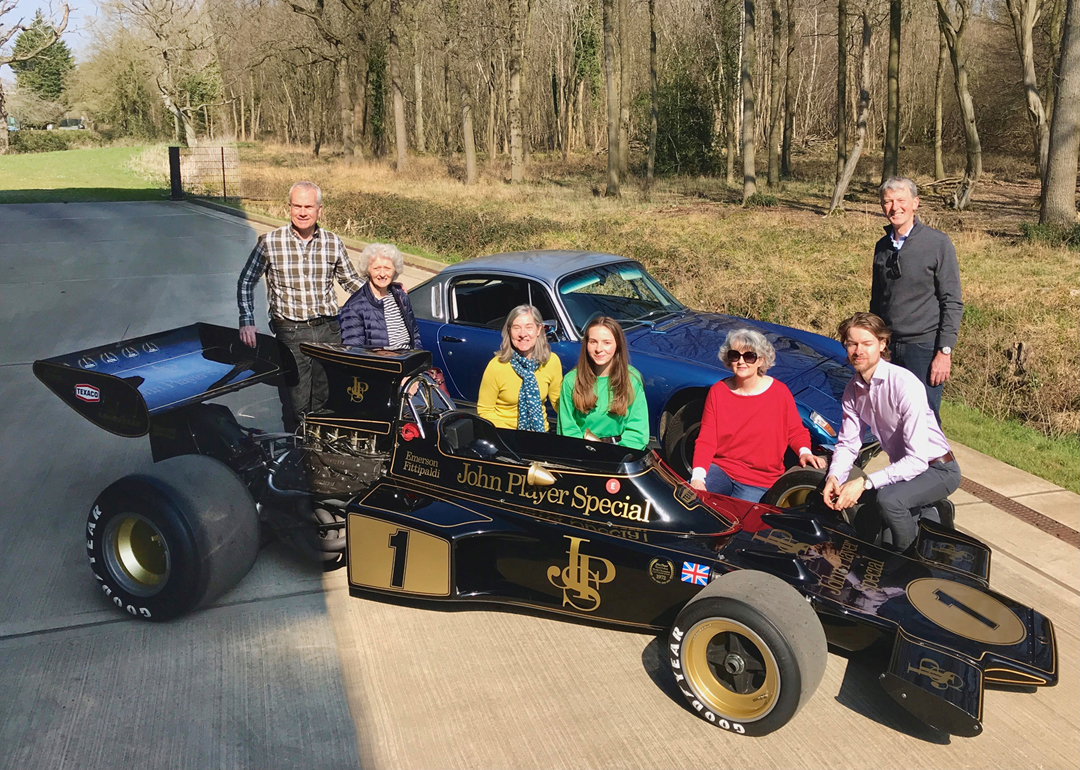 In August of 1972 Team Lotus Chief Mechanic Eddie Dennis, had bought the Elan +2S 130 directly from Lotus Cars Ltd. in 'kit' form. This required him to install the engine and gearbox to complete the Lagoon Blue and Silver car. The work was carried out in the garage at his Taverham home and his son Nigel can still recall helping his father to lower the engine very carefully into the chassis with a chain winch.
Eddie joined Team Lotus in 1966, becoming Chief Mechanic for the World Championship winning 1972 and 1973 seasons, and beyond, working heavily with Ronnie Peterson.
 The film 'If You're Not Winning You're Not Trying' available from the CTL shop captures moments of Eddie's close working relationship with Colin Chapman and Peter Warr (seen above at Monaco), during one of the team's most successful seasons in 1973. 
Elans were popular amongst the F1 drivers. Jim Clark famously had an Elan, as did Jochen Rindt. Graham Hill and Ronnie Peterson both had a +2s in their garage, and Ronnie's 1972 +2S was the same Lagoon Blue colour as Eddie's car. Eddie would even drive JPW 162L (above) to circuits for Ronnie's use during the course of a race weekend.
Eddie left Team Lotus at the end of 1979 and co-founded DC Developments. 
In 1996 he joined Classic Team Lotus and played a vital role in establishing this initiative as the leading specialist in the preservation and restoration of Team Lotus racing cars, not to mention the old GLTL transporter Eddie (above with his wife Sheila) was involved in restoring.
Eddie sold HNG841L in 1974 and did not see or hear of it again for over 30 years.  Coincidentally, Eddie and Nigel were carrying out searches for the car when they were contacted in 2006 by the then current owner. He had bought it from the person Eddie had sold it to in 1974 and intended to restore it. On contacting the historic register at Lotus for background information, they put him in touch with Eddie. Above is Eddie's trophy awarded to him as Chief Mechanic of 1973 championship winning team.

When they finally spoke, Eddie filled him in on the car's history and asked that should he decide to sell it, would he give Eddie first refusal. Six months later he got in touch to say that the restoration was too big a project and offered it back.  They agreed a price and Eddie headed off to Cornwall to collect the +2 and bring it home. Although it returned to Norfolk in 2007, the +2 sat in Eddie's workshop largely untouched for 5 years before he made a start on its restoration. Encouraged and helped by Nigel, they set about a complete 'nut and bolt' restoration in 2012.  
                                      
Sadly, in 2013 Eddie was diagnosed with Alzheimer's and his health began to decline. Progress with the restoration soon became very difficult for him and Alzheimer's ultimately took his life in 2017.