News Headlines
Black & Gold: The Story of the John Player Specials
Black & Gold, The Story of the John Player Specials, is a wonderful new book about a brilliant era for Team Lotus.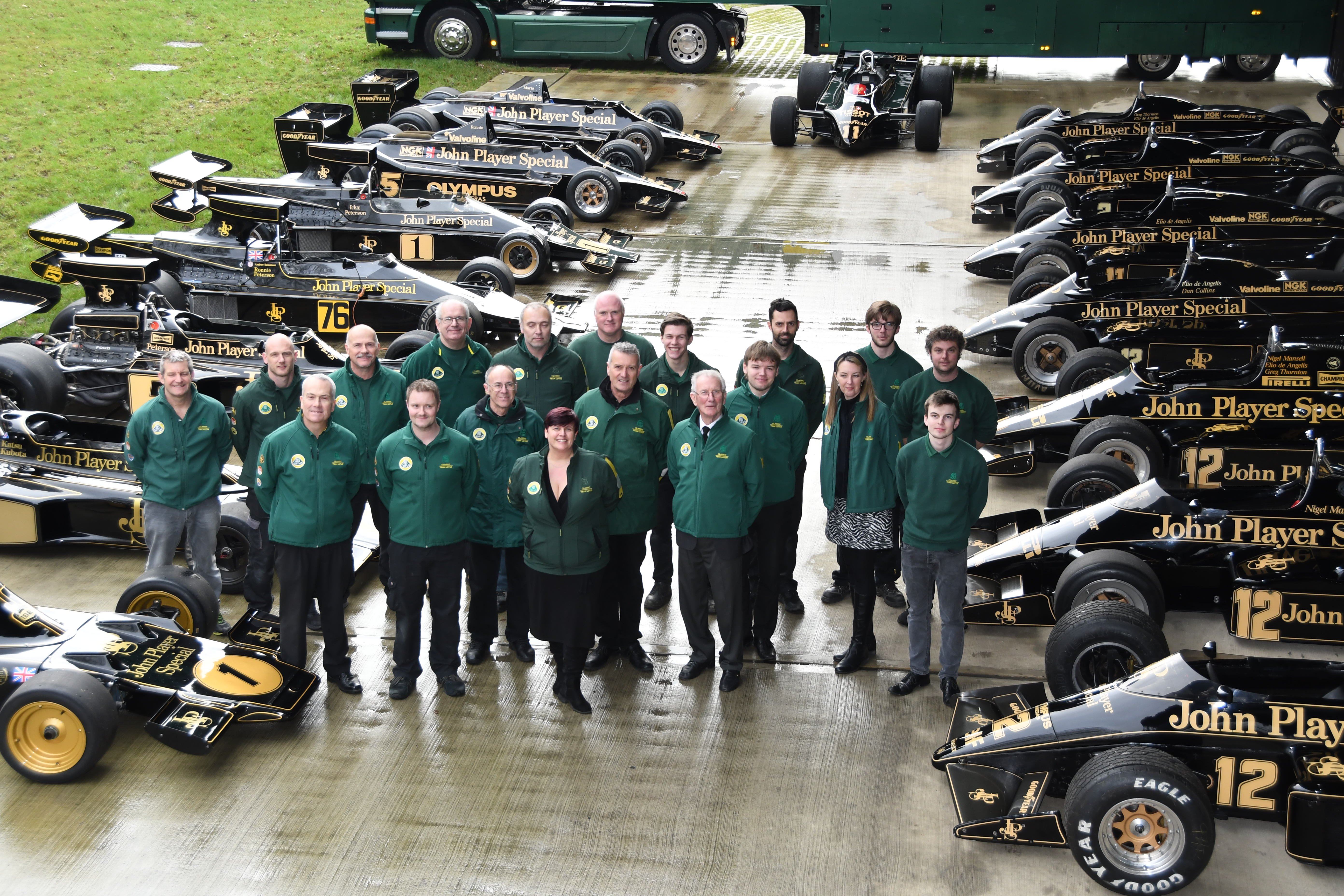 Classic Team Lotus is delighted to have hosted the launch of this fascinating record of such an exciting time in Formula One.
To mark the occasion, 15 JPS Team Lotus F1 cars were lined up outside the new Classic Team Lotus workshop at Hethel.  The cars belong to Classic Team Lotus customers and the Chapman Family Collection.  It is the greatest ever gathering of Black & Gold, from Emerson Fittipaldi and Ronnie Peterson to Nigel Mansell and Ayrton Senna.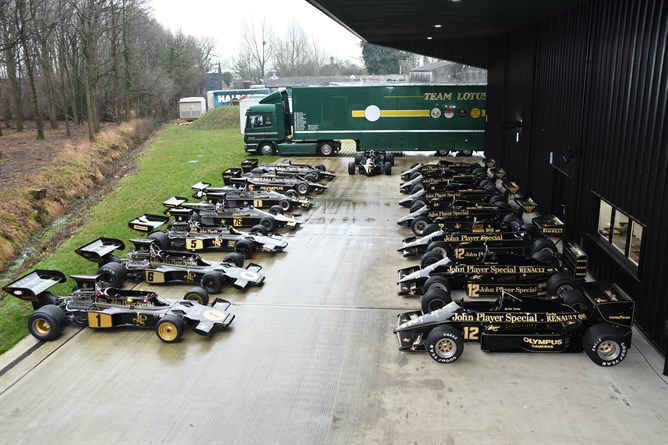 William Taylor of Coterie Press staged the press launch of this fascinating book, which he has been working on together with Johnny Tipler for the last three years.
Later on in the day there was a reunion of Team Lotus members, many of whom were on the team during the Black & Gold era.
Mario Andretti – F1 World Champion with John Player Team Lotus in 1978 - sent a message to his team mates, including this moving tribute: "To my dream team of talented engineers, brilliant mechanics and wonderful support staff, I thank you from the bottom of my heart for your exceptional efforts.  Without you, the 1978 championship season wouldn't have been possible.   And thank you, Colin, for giving me the greatest gift of my career."
Back in the late 1960s commercialism in motor racing was increasing. Major sponsors appeared on the F1 scene including tobacco giants Marlboro and Yardley cosmetics, and this had developed into a veritable flood by the time Team Lotus changed its Gold Leaf livery to the black and gold of the John Player Special cigarette brand. At the time, Johnny Tipler was working for the Stanbury Foley Organisation, a motor racing promotions hothouse based in East London. Its major client was John Player & Son, and the livery of the Lotus 72 in its JPS guise was designed largely by SFO partner Barry Foley. In 1972 the black-and-gold livery also extended to the Team Lotus transporters and JPS hospitality vehicles.
This book, Black & Gold, has been a gleam in publisher William Taylor's eye for a long time. Probably eight years have elapsed since he and Johnny Tipler first talked about producing it. During that time Tipler spoke with the key figures from the JPS era – those who are still with us at any rate – while Taylor accumulated images of the period from John Player photographer Ian Catt, as well as amassing examples of JPS paraphernalia.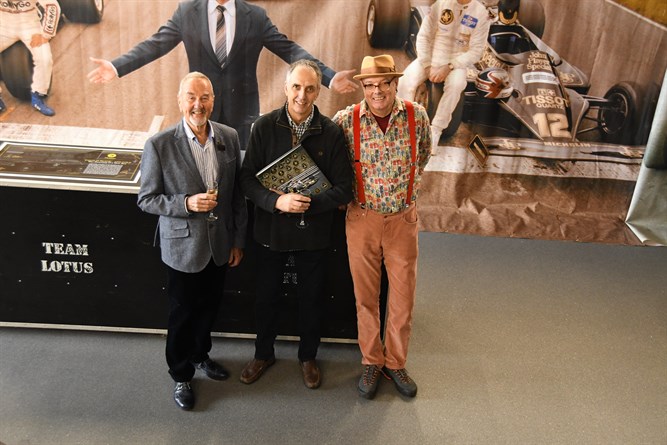 Black & Gold: The Story of the John Player Specials, is the result of a veritable wealth of knowledge and experiences
from all the 'players' in a 'Special' story that started in the early 1970s and went through to the end of 1986 with Ayrton
Senna and Johnny Dumfries driving. The black & gold brand is still recognised and passionately remembered, the world over.
With over 40 books published on a variety of motoring topics ranging from racing cars and driver biographies, to motorcycles and commercial vehicles, motoring journalist, historian and author Johnny Tipler is based in Norwich, England. In the black-and-gold era he co-ran the John Player Team Lotus press office, rubbing shoulders with the likes of Emerson Fittipaldi, Ronnie Peterson, Jacky Ickx and of course Colin Chapman, trumpeting the fortunes of JPS-Lotus and Player's sponsored events around the world.
A major contributor to the Lotus Club International magazine, interviewing well-known Lotus personalities, writing drive stories and book reviews, Johnny is also author of seven books on Lotus road and race cars.
Book Specifications:
Size: 11x11in with Hardcover and Jacket
316 colour pages
129,000 Words
Over 798 images including almost every JPS related vehicle Race results for all John Player Team Lotus races
Standard Edition Price: £49.95
Special Edition Price: £100.00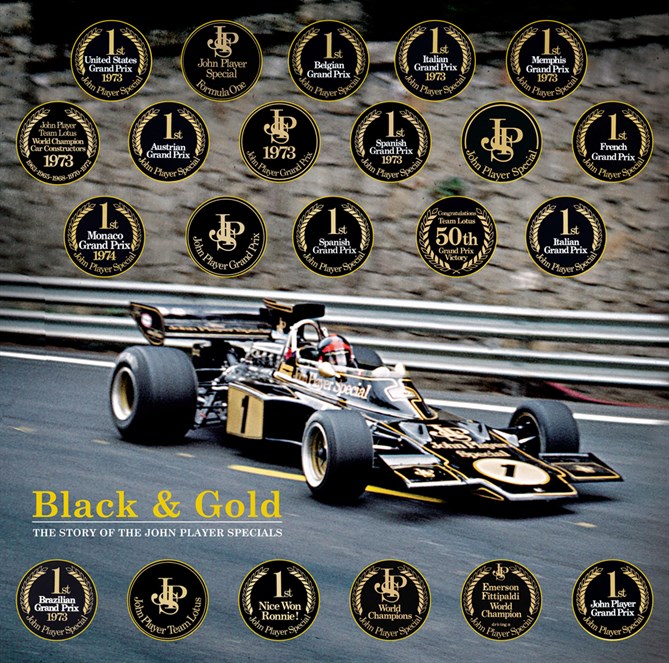 Tags