News Headlines
Exciting Masters Battle at Silverstone
01/08/16 - The challenge for second place covered just three seconds from second to seventh...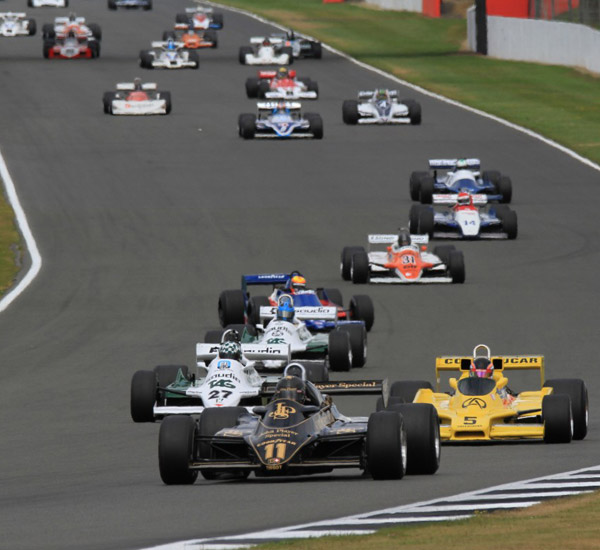 The FIA Masters Historic Formula One cars returned to the Silverstone circuit last weekend along with a full grid of Formula Juniors and pre 66 cars from the HGPCA.
The Masters race was exciting with a six car battle for 2nd place.  Greg Thornton was one of those six, dicing for position in his Lotus 91..Read full race report
Andrew Beaumont (Lotus 24) and Nick Fennell (Lotus 25) took part in the pre 1966 HGPCA race. Nick qualified in 4th place and Andrew in 6th.  Andrew missed the first race and due to oil on the track, Nick dropped down to 7th.  The second race Andrew had to start from the back (48th). After a restart due to a collision, Andrew climbed his way up to an impressive 6th!! Nick pulled into the pits on the last lap and finished 11th - fastest in class in both races.
Andrew, Greg and Lee Mowle were among the 62 entered into the Formula Junior race.  25 out of the 62 were Lotus FJs - what an impressive sight. Qualifying positions - Greg P6, Andrew P16 and Lee (his first time in the car) P24.  Lee was a reserve entry so unfortunately did not get to enter the race. Greg finished 5th and Andrew 16th overall. 
For results for all classes over the weekend, please click here
To view photographs from the weekend, please visit our Flickr gallery
Tags