News Headlines
Thornton Takes Double Win at Brands
26/05/15 - Greg Thornton was in unstoppable form at the annual Brands Hatch Masters Festival as he took two wins in the FIA Masters Historic Formula One Championship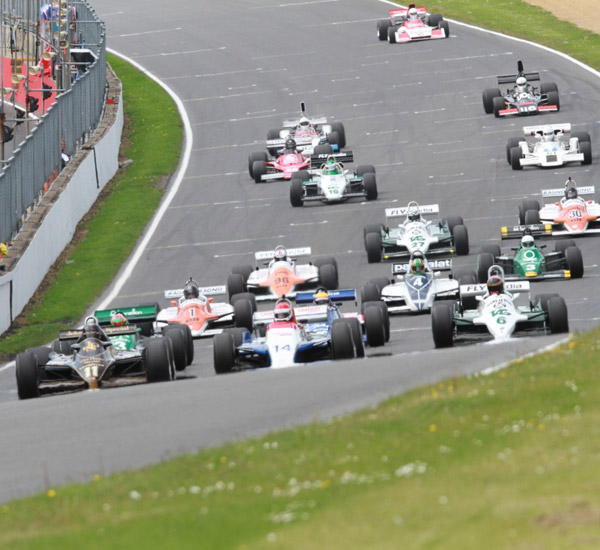 Starting on pole for the opener, Thornton powered away chased by Andy Wolfe (Tyrrell 011), while early contact eliminated Simon Fish (Ensign N180) and Loic Deman (Tyrrell 010) at Druids. In their stead, Steve Hartley (Arrows A4) moved up into second place and chased after Thornton and moved himself by, as did Wolfe, leaving pole-sitter Thornton with work to do.
Thornton put his head down and charged back into contention on lap four, retaking both Wolfe and Hartley to grab back the lead, his Lotus 91/5 winning by over six seconds from Hartley, while Silvio Kalb (Arrows A4) moved ahead of Joaquin Folch (Brabham BT49C) to secure third spot. 
Race two was a thriller: with the threat of rain looming, Hartley edged into the lead from Thornton with Deman carving his way up from the back of the grid. Kalb was also on a mission and he worked past Thornton, leaving the race one winner with work to do.
THORNTON FOUGHT BACK AND SET A CHAIN OF FASTEST LAPS AS HE HUNTED DOWN THE ARROWS DUO AND FOUGHT PAST KALB, AS DID A FLYING DEMAN
When Thornton arrived on the tail of the leader, Hartley, he spun, allowing Deman into the lead. Undaunted, Thornton hurtled after him and grabbed the win on the last lap ahead of Deman and Hartley with Nicolas Colyvas Shadow winning the Pre-78 race.
To read the full race report, please visit the Masters Series
Tags