News Headlines
Motor Sport's Greatest Season
07/01/15 - Celebrating Jim Clark's Clean Sweep, 50 Years On at the Autosport International The Racing Car Show 2015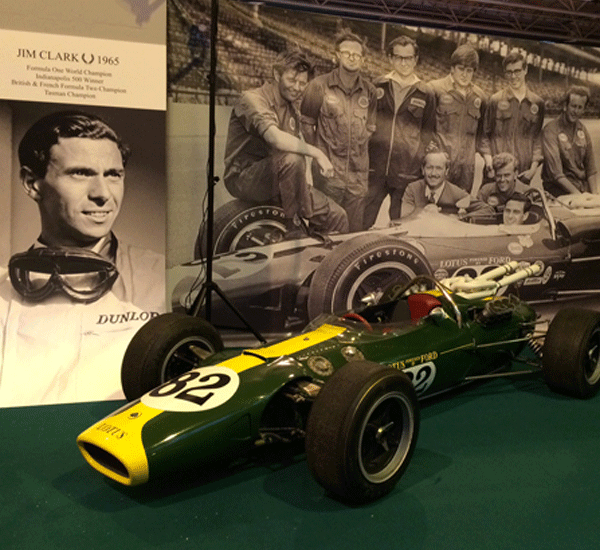 Classic Team Lotus, with the generous support of private owners, is proud to be displaying each type of Team Lotus racing car with which Jim Clark realised the greatest season of success in Motor Sport history. (Stand 6730.)
In 1965 Jim Clark won the Indianapolis 500 (Lotus type 38), the Formula One World Championship of Drivers (Lotus type 33), the Formula Two Championship (Lotus type 35) and the Tasman Championship (Lotus type 32B).
50 years later this extraordinary dominance remains unmatched. The enduring affection and respect for Jim Clark is such his 1965 accomplishments will be remembered on numerous occasions throughout 2015. These will include a special event at Duns in May and a tribute at the Indianapolis 500.
The Jim Clark Trust is supporting the Classic Team Lotus display, by bringing from the Jim Clark Room a number of Jimmy's trophies from 1965. His F1 Driver's Championship trophy will be reunited with the Constructors' Championship Trophy - won by Team Lotus - for the first time in 50 years.
Classic Team Lotus; Celebrating a Great 2014 Season
In 2014, Classic Team Lotus Customers took the start 106 times and finished a remarkable 100 times. Given the age of the cars, their period technology and the demanding nature of the events this is an excellent achievement by the Classic Team Lotus mechanics and customers alike.
The 2015 historic motorsport season is looking better than ever and the team is working hard in the Hethel workshops to lay the foundations for another successful year on track. And it is not all about competition, as the team is restoring a number of cars to exact, Works specification for various non-racing owners from around the World.
Tags