News Headlines
Jim Clark to be Honoured at Brickyard Invitational
16/04/15 - The SVRA announced it will honour Jim Clark with a display of his Indy 500 cars at the June 11-14 Brickyard Invitational at the IMS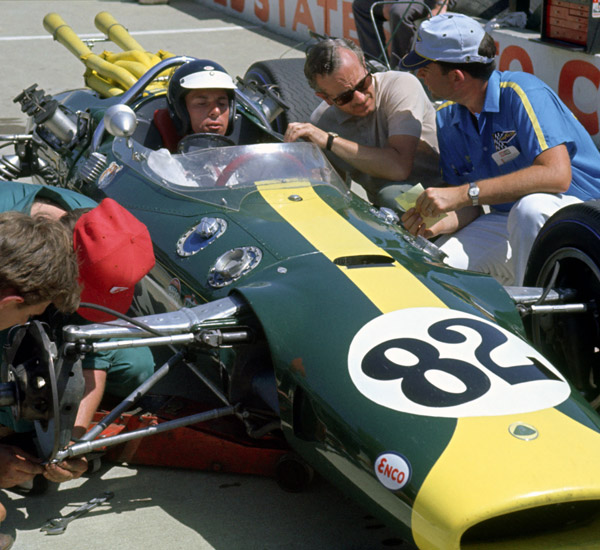 Jim Clark, nicknamed by fans and press "The Flying Scot," will be honoured for his many accomplishments in the 50th anniversary year of his 1965 Indianapolis 500 triumph

Regarded by many of his generation as the greatest race driver that ever lived the Hall of Famer and Officer of the Order of the British Empire (OBE) racked up an impressive list of achievements to earn such recognition. His Indianapolis career alone would have made him a legend but the two-time Formula 1 World Champion (1963 & '65) was one of those versatile drivers who not only won but dominated in numerous branches of the sport from Formula One to Indy cars to saloon cars, stock cars and sports cars. He tackled NASCAR once and scored a third-place overall very early in his career at Le Mans in a private entry Aston-Martin behind two factory-backed Ferraris.
"We just could not come to IMS on the 50th Anniversary of Jim Clark's victory and not do justice to this great champion," said SVRA President & CEO Tony Parella. "I also thought it appropriate to announce this decision to remember him on April 7, the anniversary of the very sad day of his passing."
For Parella and all of SVRA a connection to Jim Clark holds a special and personal meaning. Sally Swart, the former Sally Stokes, who was Clark's close companion during his most triumphant years from 1963 through '65, is the wife of West Coast SVRA executive Ed Swart.
"I have nothing but golden memories of Jimmy," says Sally. "His mastery in the car made him a true artist. I am so pleased Tony and the SVRA have chosen to honor Jimmy in this way."
To read the full article and gain information on how to buy tickets, please visit the Sportscar Vintage Racing Association website
Tags