News Headlines
Singapore Podium Andrew Beaumont
23/09/14 - Classic Team Lotus customers Andrew Beaumont and Chris Locke enjoyed a thrilling adventure, racing around the Singapore GP circuit in front of enthusiastic crowds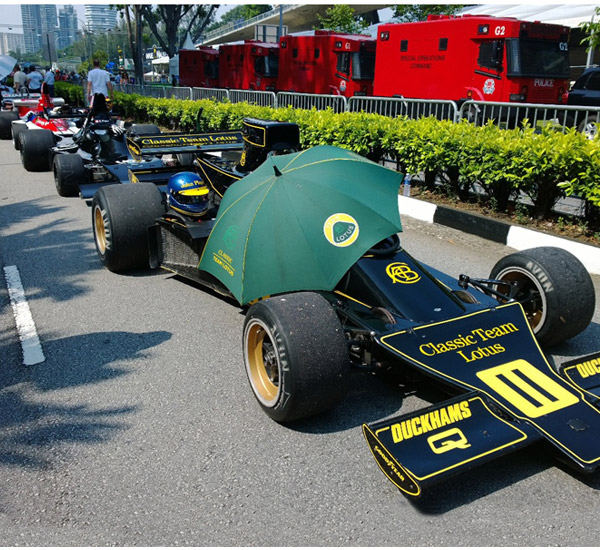 After the disappointments suffered by Greg Thornton and Katsu Kubota in qualifying it was good to see the black and gold Lotus type 76 and type 79 going so well in both the races.
On Saturday Andrew charged up from 10th on the grid into an eventual podium finish and a well earned trophy. Chris drove well to go from 12th to 11th. Having got to grips with the demanding circuit both drivers looked forward to the GP day race.
Heady stuff for Andrew, starting on the second row, from where Daniel Ricciardo would soon launch his Red Bull. The Masters drivers acquitted themselves well and put on a good show, with lots of the F1 teams personnel taking a keen interest. Andrew was looking strong in fourth place, but he tired towards the end and settled for a fine 6th. Chris really got into the groove with the 79 and enjoyed a busy race to hold his 11th place starting position, in the face of stiff competition.
Please visit our Flickr page to view the photo gallery
Tags