News Headlines
International Historic Motoring Awards Car of the Year - vote now!
26/09/14 - Classic Team Lotus is very pleased to announce that the 1968 Graham Hill Lotus type 56 has been shortlisted for the Car of the Year award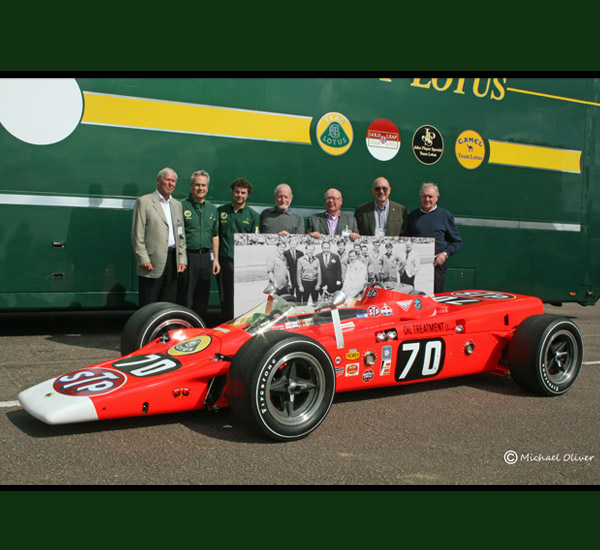 Nominations received from historic motoring enthusiasts around the world have made this recently restored Indy car – owned by Milton Verret – a contender for the International Historic Motoring Awards 2014. 'Car of the Year' is decided by public vote so we would like to encourage you all to follow the link, register and cast your vote. Voting closes on Saturday 1st November.

To be shortlisted is a great achievement for Classic Team Lotus, especially lead mechanic on the restoration, Lewis Cullington.
56/3 returned 'home' to Hethel in November 2013. Texan owner Milton Verret wanted the car restored to running condition and presented exactly as she was on race day, back in 1968.
With its unique resources - mechanics from the day, the original design drawings, the Works Collection of cars and photographic archive - Classic Team Lotus specialises in restoring cars to exactly period specification.
Lead mechanic Lewis Cullington spent hundreds of hours disassembling, researching, restoring and rebuilding the car. Team Manager Chris Dinnage and buyer Roger Yallop played vital roles in helping Lewis to conduct the restoration to the highest possible standard. Lewis was helped in particular by apprentice Keiran Cook and new recruit Paul Reed. Paint specialist Jason Baker stove enamelled the chassis and re-applied the famous dayglo red. The raceday livery was replicated exactly by specialist signwriter Paul Banham. As the deadline loomed large it was all hands to the pumps, with the whole of Classic Team Lotus getting involved, to have the car ready for its departure to the States.
Extensive research in the course of the restoration confirmed beyond doubt the provenance of the car as 56/3, Graham Hill's car number 70. Every detail is exactly in accordance with the original Team Lotus design, realised by Maurice Philippe, working together with Colin Chapman. Detail features unique to 56/3 are evident and consistent throughout the car.
The unveiling of the restored car at Hethel, in the company of the period Team Lotus mechanics and Hazel Chapman, was a very special occasion, 46 years since the 56 first ran on the Lotus Cars test track, with Graham Hill at the wheel.
Together with 56/1 and 56/4, and with drivers Mario Andretti, Vince Granatelli and Parnelli Jones, the first run since 1968 of this extraordinary four wheel drive, jet engine, wedge shape Indy car, as the competitors sat on the grid for this year's 500, was a wonderful moment. The crowd went wild.
Tags