News Headlines
Personal Achievement; Bob Dance
22/10/14 - The type 56 isn't the only one who's been nominated at the International Historic Motoring Awards...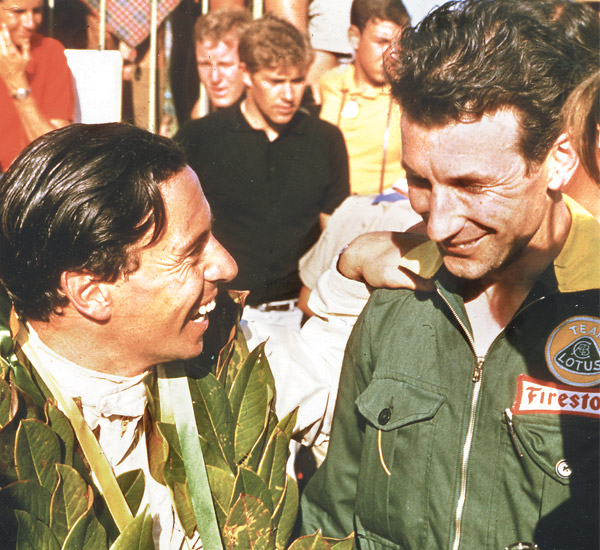 Jim Clark and Bob Dance pictured above after the Scot's victory in the opening Grand Prix of 1968 at Kyalami in South Africa
Bob Dance, Team Lotus mechanic in 1960-1969 and again from 1977-94, has been shortlisted for the Personal Achievement Award at the International Historic Motoring Awards in recognition of his outstanding achievements in motorsport.
In 2004 Bob joined Classic Team Lotus, working under Chapman's son Clive.  In 2014 Bob has continued to prepare and run the Lotus type 25 chassis R4 for owner John Bowers. 2014 was Bob's 55th season of motor sport, since joining Team Lotus in 1960. Andy Middlehurst raced R4 to victory in the 9th Grand Prix De Monaco Historique - making it two in a row - and at the Goodwood Revival Andy won a brilliant race to lift the Glover Trophy for the 4th year in a row. Outstanding achievements both in terms of outright speed and, most importantly, reliability, which is down to Bob's high standard of preparation.
At historic motorsport events worldwide Bob Dance is a great ambassador for the sport. He always makes time for enthusiasts and is unfailingly patient, pleasant and polite.
At Classic Team Lotus, Bob has encouraged and taught the younger mechanics, sharing with them his unrivalled experience of historic racing cars.
An active member of the Grand Prix Mechanics Trust, Bob continues to contribute regularly towards the realisation of the Trusts' admirable role in motor sport.
Lotus founder Colin Chapman had tried to dissuade Bob from joining the F1 team in the early days. Bob recalls "I asked him if I could switch from the components and developments department at Lotus to the race team", but Colin said 'Don't do that. It's a dead end job.'
"He was right because here I am all these years later still doing it!"
Bob's dedication to and enthusiasm for motor sport remain undimmed. He would be a most appropriate, worthy and inspirational recipient of the personal achievement award.
Tags