News Headlines
Lotus stars of Indy 500 raceday
28/05/14 - The Lotus marque was the star of the pre race show at the 98th Indy 500, last weekend.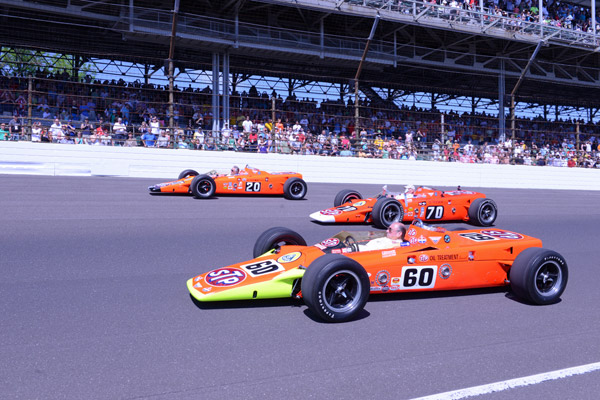 Mario Andretti, Parnelli Jones and Vince Granatelli paraded three of the revolutionary 1968 Team Lotus type 56 Indy cars before the 300,000 strong crowd, with the 33 car field already lined up on the grid.
The extraordinary noise of their gas turbine engines was almost drowned out by the cheering crowd as three of the Indy greats drove by in tight formation.
Parnelli Jones was driving car number 70 which was Graham Hill's car in 1968. Owner Milton Verret commissioned Classic Team Lotus to restore the car and he was proud to give her a shakedown run at the Brickyard, the day before the parade.
The dramatic wedge shape, dayglo red cars have been reunited by the Hall of Fame Museum to celebrate the history of gas turbine powered cars at Indy. Classic Team Lotus was pleased to accept the invitation to include the 1971 Formula One type 56B version raced by Emerson Fittipaldi. Hopefully next time the 56B will be able to join in the parade.
Please visit our Flickr page to view the photo gallery
Tags