News Headlines
Jim Clark Guest of Honour
22/08/14 - Jim Clark was a guest of honour at a Swiss mountain rally from St Ursanne / Les Rangiers 22nd August 1965.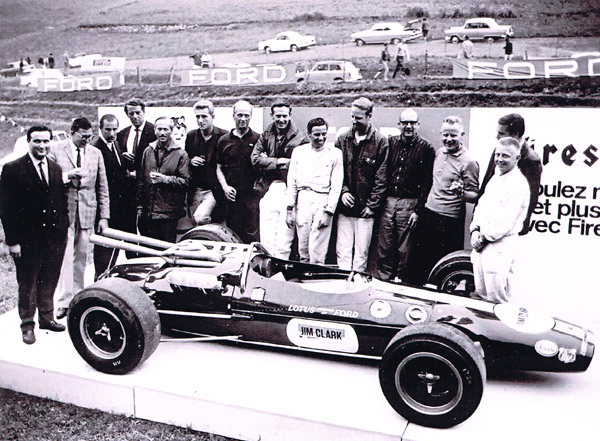 The Mountain rally was part of the European Champion Touring Cars. Therefore the whole elite of European drivers were at the start with Ford drivers and Ford cars, and it was very pleasing. Jim Clark also used to drive a Ford car.
After the training session on Saturday 21st August, Ford Switzerland had a press conference in honour of the Ford drivers. They also presented the Ford Mustang GT to members of the Swiss press.
On the picture above you will be able to recognise from right to left:
Herbert Muller, Swiss Mountain rally driver, who was the 1965 European GT Champion. He was also the first to drive the Cobra Roadster 7I in Europe.
Arthur Blank who was Swiss Champion in 1963, and was second in his class with the Lotus Cortina behind Sir John Whitmore.
Pius Zund, who drove in the over 300ccm in a Ford Mustang, beat Bo Jungfeld from Scuderia Filipinetti.
Pete Ettemuller, Swiss Champion in 1965 in the sports car category and was the first in Europe to drive a Mustang 350 GT.
Sir John Whitemore, won the European Touring Cars Championship in the Ford Lotus Cortina.
Jim Clark, World Champion in 1963 and 1965. Also a winner of Indianapolis.
English rally specialist Henry Taylor, who came second in his class behind Pius Zund.
Alan Mann
Colin Chapman
R. Pierpoint, came third in his class in a Ford Mustang.
J.G.H Hirsh, delegate of the Ford Switzerland board of directors.
John Martha, Ford competition manager from Brussels.
A.G Vermot, public relations manager for Ford Switzerland.
Tags