News Headlines
Four in a row for John Bowers
15/09/14 - Andy Middlehurst drove a brilliant race to win the prestigious Glover Trophy at the Goodwood Revival, making it four wins in a row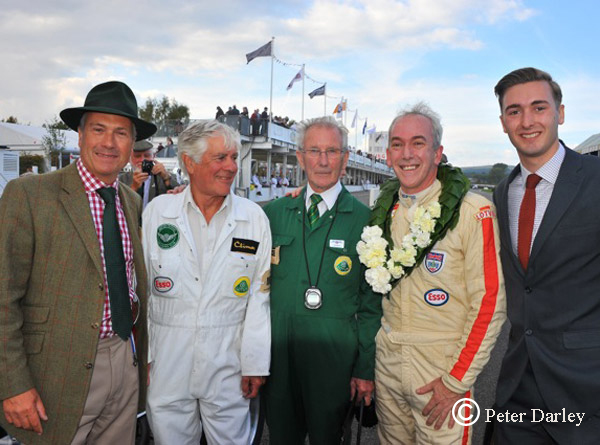 Clive Chapman, Engine Builder Tony Mantle, Bob Dance, Andy Middlehurst and Chris Middlehurst celebrating the win
Andy Middlehurst drove a brilliant race to win the prestigious Glover Trophy at the Goodwood Revival, making it four wins in a row for the ex Jim Clark Lotus type 25 owned by Australian John Bowers. Starting from pole, Andy faced stiff competition from team mate Nick Fennell - in his sister type 25 - James King in his Brabham and Joe Collasacco in his Ferrari.
For the first half of the race Nick Fennell was the man to watch as he carved through the field after dropping some places at the start. Having got past Andy he was reeling in James King and a win was looking likely. However, having just set fastest lap, Nick suffered the terrible disappointment of a gearbox problem which forced him to retire.
Nick Fennell pictured above going through the chicane
When Joe Callasacco demolished the walls of the notorious chicane the safety car came out, the field bunched up and the crowd were on the edge of their seats for a thrilling dash to the flag. Upon the restart Andy managed to dive past James and the pair engaged in a brilliant dice to the end. When James got by going into Woodcote, Andy, who knew it was his only chance, pulled off a breathtaking manoeuvre to get ahead again before the chicane. Somehow Andy held on to win by a fraction.
The icing on the cake for the team was a podium finish in his type 24 for Andrew Beaumont and an overall fourth place - and class win - for Dan Collins in his type 21. Three CTL customers in the top four. Brilliant!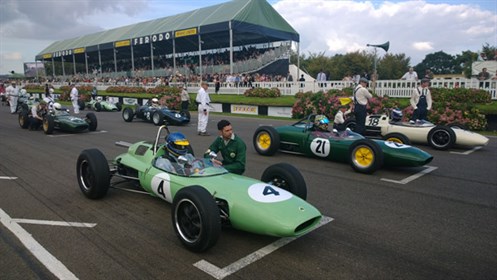 All Lotus row three, with Andrew and Dan in the foreground
Time for John Bowers to send his replica Glover Trophy to the engravers.
Tags