News Headlines
Celebrating another good season
04/12/14 - We have enjoyed huge crowds at Monaco, Goodwood, Silverstone, Zandvoort and a fly away trip to Singapore in support of the Grand Prix, to name just a few of the highlights in 2014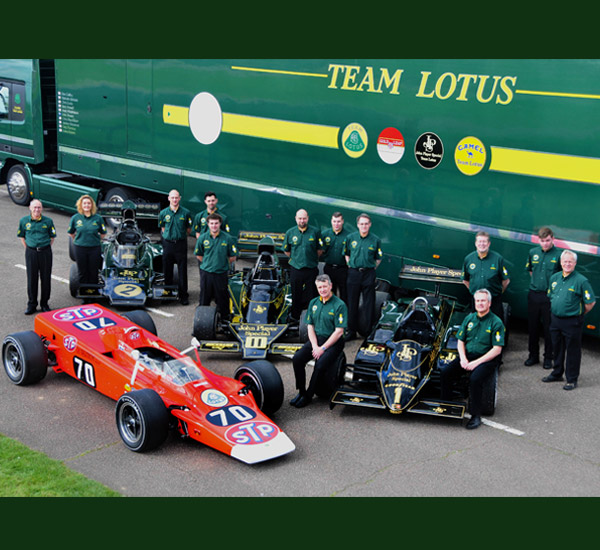 The Classic Team Lotus customers have once again
done us proud by achieving a total of
100 finishes this year out of 106 starts
Top marks to go to Andrew Beaumont who finished every race he started in his type 76 (17!) which was an excellent achievement by mechanic Lewis Cullington. Andrew also enjoyed a successful season in his type 24, with Tim Gardner working very hard to help Andrew achieve a 98% finish rate. It was brilliant to see Greg Thornton on the front row at Silverstone and Zandvoort in 91/5, especially after such a great effort by Ted Fiddy with a last minute engine change. A race win at Monaco for Katsu Kubota in his type 72 after an excellent restoration by Kevin Smith was very well deserved and Bob Dance's vast experience ensured a second impressive win at Monaco for John Bowers 25R4 driven by Andy Middlehurst. Another fantastic achievement for John and Andy was winning the Glover Trophy at the Goodwood Revival for the fourth successive year.
A big part of the drivers being able to achieve this success rate is down to the experience and wealth of knowledge from the mechanics and all the team at their Hethel HQ. The team work very hard to ensure the drivers have an enjoyable experience every time they step into the cars. An added bonus is collecting a few trophies along the way!
Team Manager Chris Dinnage, with vital support by Roger Yallop who ensures all the parts arrive on time, pulls it all together to make Classic Team Lotus one of the leading restoration and race preparation specialists in the World.
Of course, all of this wouldn't be possible without our customer's passion for the marque. Thanks goes out to them for allowing us to continue restoring and preparing these magnificent cars and achieving such great success for Classic Team Lotus.
Thank you to the Masters Series, HGPCA, Goodwood, the ACM and Formula Junior for putting on such excellent race meetings and thank you to everyone that has supported us throughout the season.
We look forward to seeing you again in the New Year. Please come and find us in our regular spot at the Autosport International Show in January. (Hall 6)
Tags