News Headlines
Classic Team Lotus welcomes Kit Lotus
13/03/14 - Classic Team Lotus recently welcomed Kit Lotus - represented by John Thornhill, Peter Pedroza and Simon Parsons - on to one of our increasingly popular Works Tours.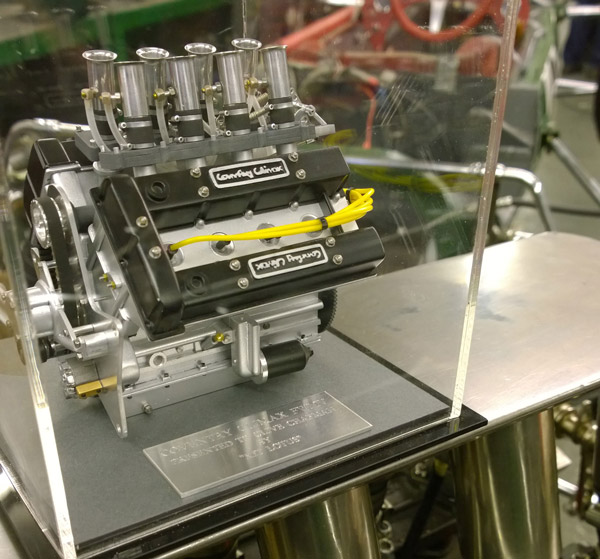 Clive Chapman, Steve Allen and Sapphire Whitbread were even more pleased when Peter Pedroza made a very special presentation to mark the occasion; a scratch built, one quarter scale model of the Coventry Climax FWMV engine. One of the great engines in motorsport history, this 1.5 litre V8 engine powered Team Lotus to World Championship victory in 1963 and 1965. And she sounds so sweet; when you hear the type 25 echoing around Monaco it is no wonder that historic motorsport is so popular. (Bernie Ecclestone eat your heart out!) Peter was generous in his presentation speech, expressing his appreciation of the efforts of Classic Team Lotus. In return, Clive Chapman expressed his appreciation of Kit Lotus and, in particular, its excellent displays at events throughout the year. When referred to the fabulous quality of the unique model, Peter was moved to clarify that it has a sibling, which has taken its place in Peter's personal collection. Fair enough!
In the workshop the visitors were able to compare the model to the real thing, as FWMV 499/6 was to be seen at Bob Dance's workbench - having just returned from its winter rebuild by Tony Mantle of Climax Engineering Services - being prepared for installation into the John Bowers type 25/R4. We took the opportunity to photograph the model atop the real thing that has won the last three Glover Trophy races at Goodwood and the 2012 Monaco Historique, driven by Andy Middlehurst. Roll on Monaco 2014!
Tags