News Headlines
Another class win for Andrew
13/08/14 - Last weekend the team visited the Nurburgring with customers Andrew Beaumont and Greg Thornton with HGPCA, Master Series and Formula Junior.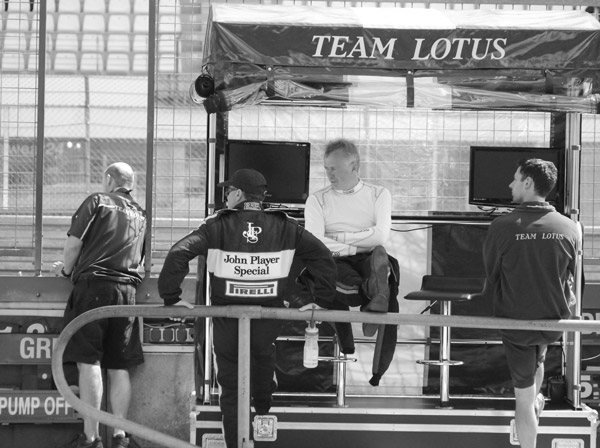 HGPCA
Andrew qualified in 4th in his type 24 in the pre '66 HGPCA race making him the fastest Lotus on track. In race one he finished 5th out of 21 cars and was fastest in class. Unfortunately in race two, the type 24 suffered a drive shaft failure and forced him to retire. Hopefully he will have better luck at Zandvoort in a couple of weeks.
The Masters Series
Greg (type 91) and Andrew (type 76) went out on a dry track on Friday and qualified 4th and 11th
After a good start to race one, Greg unfortunately spun on the 2nd corner but he managed to save the car and finish just in front of Andrew, his team mate in 11th.
Before race two there was a tyre decision to be made. The rain had been intermittent all weekend. Andrew decided wets and Greg, slicks. The cars made their way onto the pit lane and the grid was on a mixture of tyres. The track appeared to be quite dry but Andrew was sure that he had made the right choice – sure enough just as CTL mechanic Lewis knelt down to speak to him, the rain started. The cars on slicks (9 in total) came back into the pit lane for a tyre change which meant a forfeit in their grid position. Greg was second out of the pit lane, meaning he went out 14th. He was achieving good lap times – especially as it was the first time he had driven the car in the wet (excluding a few laps at the Hethel test track). Andrew got a good start and jumped up to 8th at the start of the race before finishing in 11th.
Formula Junior
Andrew also raced the type 22 Formula Junior (along his team mate Greg in his Cooper) and qualified well in 14th place out of a packed grid of 40 cars. Race one was a wet track with a dry line and he managed to make his way up to 12th. Sunday's race was extremely wet and he did well to finish in 15th.
Tags