News Headlines
A Christmas present for Classic Team Lotus
Classic Team Lotus has welcomed back to its original Team Lotus workshops at Hethel the extraordinary Lotus type 56.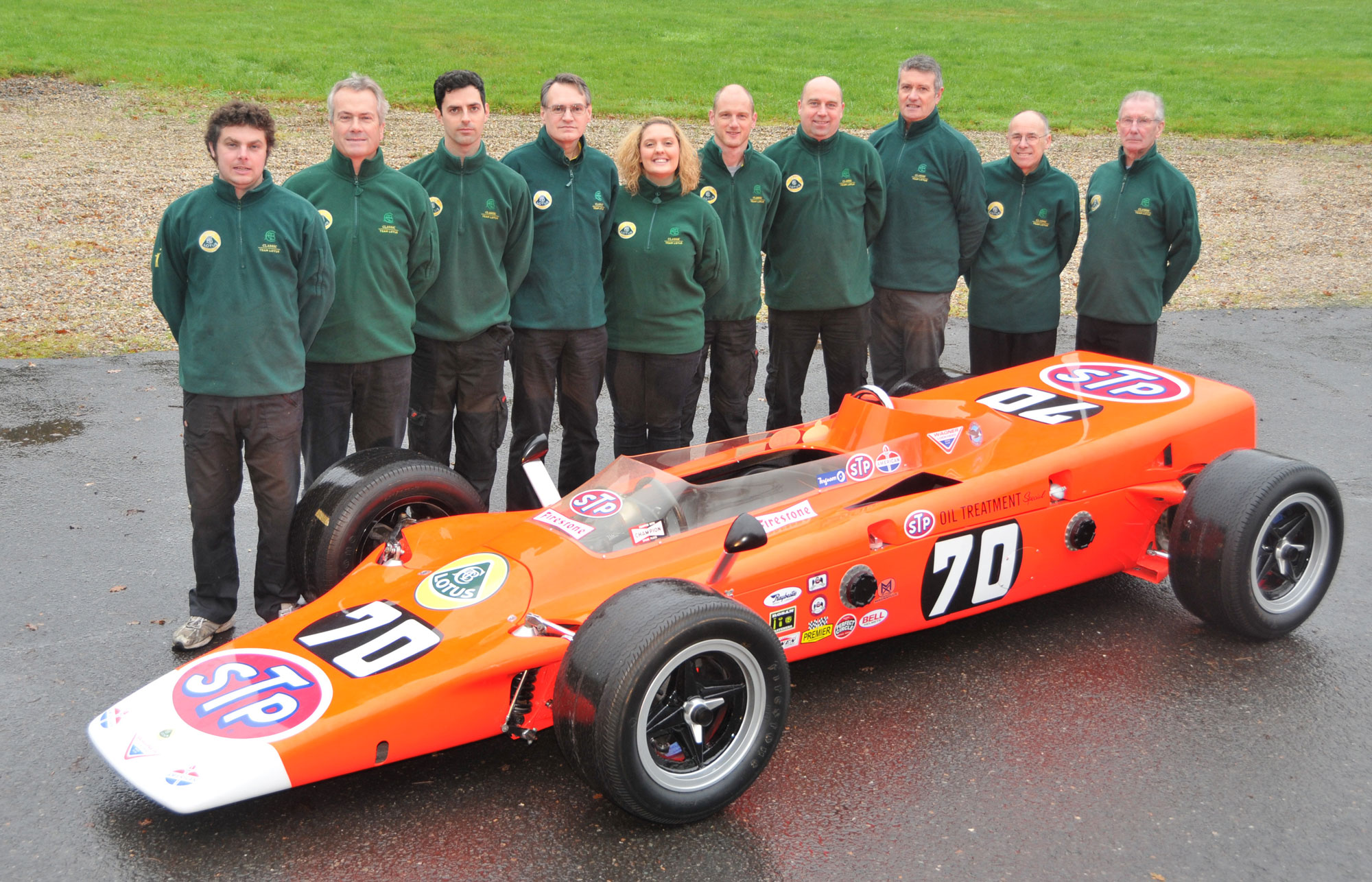 Lewis Cullington, Clive Chapman, Tim Gardner, Roger Yallop, Sapphire Whitbread, Kevin Smith, Ted Fiddy, Chris Dinnage, Steve Allen, Bob Dance
Extraordinary is the word for this wedge shaped, gas turbine powered, four wheel drive rocket ship. In 1968 Colin Chapman had already established a reputation for innovation in motorsport but, even so, the World was amazed by the type 56.
The gas turbine produced ideal horsepower for the oblong shaped Indianapolis circuit. It did not need a traditional cooling radiator and this enabled a striking wedge shape which reduced both drag and positive lift over the bodywork. Four wheel drive gave outstanding grip in the days before wings.
If it was amazing just to look at then when it was on the track it blew everyone away, by flying past with barely a whisper from the turbine engine, normally used in aircraft. The drivers were quite intimidated to begin with, by the creaks and groans of a racing car which normally were drowned out by a roaring engine.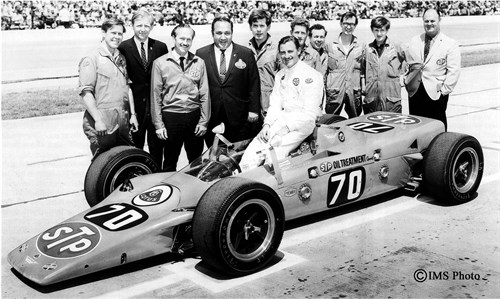 Dick Scammell, Fred Cowley, Colin Chapman, Andy Granatelli, Arthur Birchall, Graham Hill, Jim Pickles, Billy Cowe, Doug Garner, Hywel Absalom, Basil Bacon 
Team Lotus built four type 56s at Hethel; tragically one was written-off in a fatal testing accident for Works driver Mike Spence. The Andy Granatelli STP Racing team ran two cars – for Joe Leonard and Art Pollard – while Team Lotus ran the remaining Works car for Graham Hill. Leonard and Hill qualified on the front row and looked good for victory. But winning the Indy 500 is never easy and so it proved, with an off for Hill – due to suspension failure – and a fuel pump failure for Leonard – with just nine laps to go.
Clearly the Lotus type 56 was set to dominate Indy car racing and the authorities were not keen on the prospect. After much political manoeuvring the rules were changed to limit the power of gas turbine engines such that they were rendered uncompetitive. Happily the significance of the cars means they survive to this day.
The new American owner has made the excellent decision to return his 56 to running condition and elected to send her home for restoration by Classic Team Lotus. Team Manager Chris Dinnage will work together with Lewis Cullington and Bob Dance to return the car to how she was on raceday, 45 years ago. Bob Dance actually worked on the car in period and is looking forward to helping Lewis complete what will be his third Team Lotus Indy car restoration. Meanwhile the engine is being restored by Vince Granatelli, the son of STP Racing founder Andy.
Clive Chapman, Managing Director of Classic Team Lotus: "I am delighted that Classic Team Lotus has been entrusted with this exciting project. December 2013 is the 20th anniversary of the company and restoring such an important example of my father's work is an ideal way to recognise this landmark. Celebrating the memory of the cars, the drivers and the team personnel from Team Lotus history is what we are about; bringing this innovative car alive again will be an emotional moment. Furthermore it's nice that Vince and I are working together on a car which meant so much to our Fathers."
Tags