News Headlines
Iberian Poles and a race win for Beaumont
Classic Team Lotus drivers have finished the season with a Jerez/Portimao double header.
Jerez - Historic Festival 23/24 October 2021
Formula Junior
Andrew Beaumont in Lotus 22-35 and Lee Mowle in Lotus 22-796 enjoyed a strong Saturday morning Qualifying Practice in dry sunny conditions on the Jerez de La Frontera Circuit in Andalusia. Both drivers made good starts, however unfortunately Andrew retired on lap 5 with a driveline issue. Lee was racing hard, dicing in 3rd place when a late spin dropped him 2 places to finish 5th.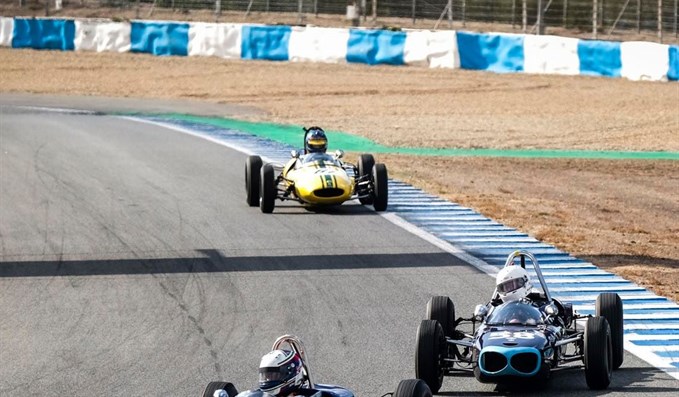 Andrew Beaumont in his Lotus 22
In Race 2 on Sunday Andrew  gained a place at the start and held off Richard Smeeton in his Wainer FJ until lap 9 when a suspension problem meant Andrew had to retire. Lee started 3rd and finished on the podium; a good result for both driver and team.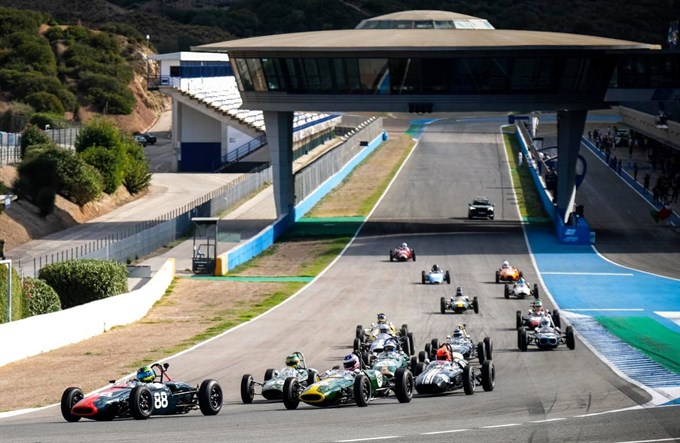 Lee Mowle heading into turn 1 , lap1 
Lee Mowle and Phil Keen on the podium
Gentlemen Drivers & Masters Pre-66 Touring
Lee Mowle in his E-Type Jaguar with co-driver Phil Keen grabbed 3rd place (2nd in class) on the grid in Saturday's Qualifying practice, and continued that excellent form in the Race on Sunday with a 2nd in Class (4th overall) finish, the E-Type continuing to enjoy superb reliability, only losing out to the more powerful TVR Griffith driven by John Spiers/Nigel Greensall.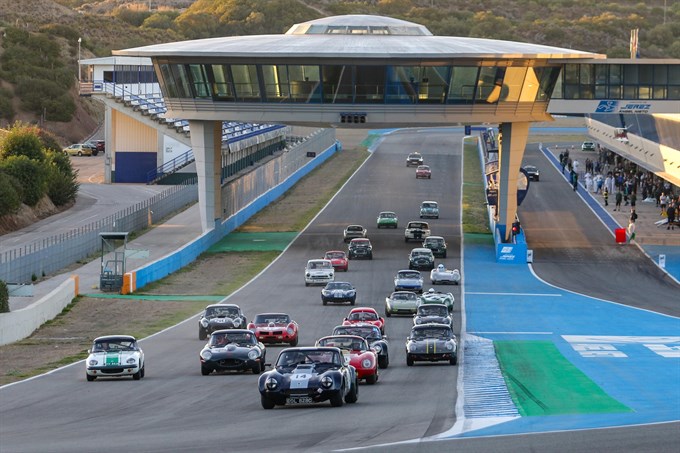 Lee Mowle in his E-type
Historic Grand Prix Cars Association
Andrew in his Lotus 18-915 qualified on Saturday in 4th position on the grid for Race 1 in the afternoon. Race 1 was sunny and dry, with Andrew starting very well, gaining 2 places on lap one coming past the pits in P2 chasing Rudi Friedrichs in his Cooper T53.  So it went on until with 4 laps to go when Andrew really put the pressure on Rudi which resulted in him making a mistake and Andrew taking the lead on the last lap to win by the smallest of margins at 0.089 seconds!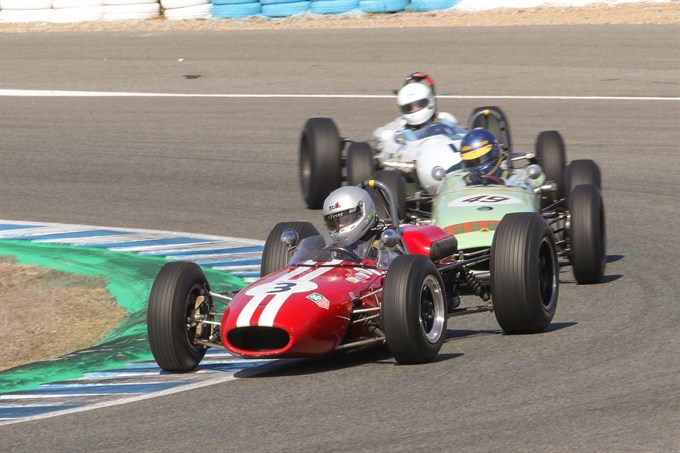 Andrew in his Lotus 18
Race 2 on Sunday, sunny and dry again, Andrew came past the pits at the end of lap 1 in 3rd place to start a race long battle with Barry Cannell in a Brabham. However, on lap 10 Barry's Brabham drove into Andrew's Lotus 18 launching it into the air and suffering some damage. Andrew managed to continue to the finish, salvaging a 5th place.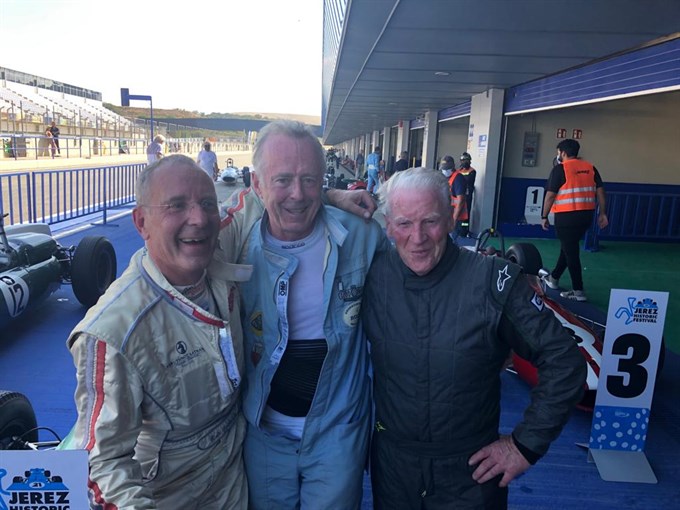 Andrew Beaumont celebrating with his competitors
Enhorabuena Classic Team Lotus!
Portimao - Algarve Classic Festival 29/30/31 October 2021
In between Jerez and Portimao the team was able to fly out the spares necessary to repair Andrew's Formula Junior.  This enabled the CTL crew to get stuck in and have the car ready for action again, in time for Friday qualifying.
Formula Junior
The Qualifying practice took place on a damp/drying track, Lee finishing 6th and Andrew 10th.  This was a session that had the driest conditions of the weekend, as it transpired. Race 1 on Saturday morning, wet track, Lee lost a few places at the and start dropping back to 10th then battled back up to 5th at one point and finished 6th . Andrew, not really enjoying the very wet conditions, pushed on to finish a solid 10th.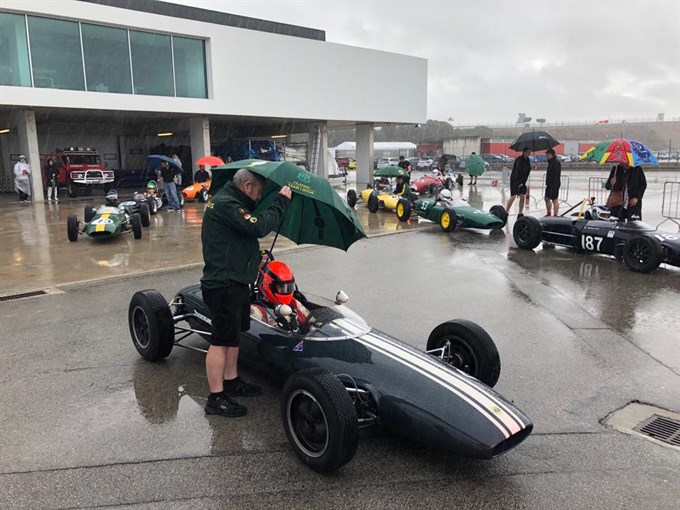 Lee Mowle trying to keep dry in Portugal...in his Lotus 22
Race 2 Sunday morning, very wet conditions, at the end of the first lap Lee was 4th and Andrew 12th . Andrew battled throughout the race gaining 3 places to finish 9th, with Lee finishing 5th.
Gentlemen Drivers & Masters Pre-66 Touring
Qualifying practice took place Saturday morning, wet track, Lee Mowle and Phil Keen taking overall pole in the E-Type. The Race took place on Saturday evening a little later than planned as the bad weather delayed proceedings throughout the day, which meant the light was fading towards the end.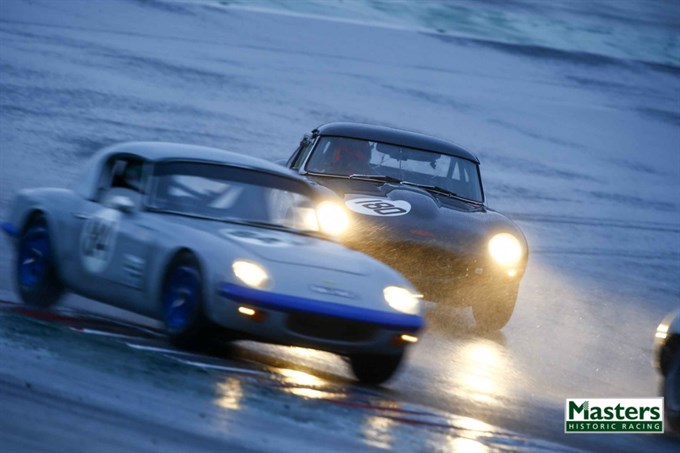 Lee Mowle enjoying the challenging conditions!
Lee took the first stint of the Race with Phil taking over for the second part. A race long battle took place with Jon Minshaw also in an E-Type, the final result was Lee and Phil finishing an excellent 2nd in very difficult conditions, the car having performed very well throughout.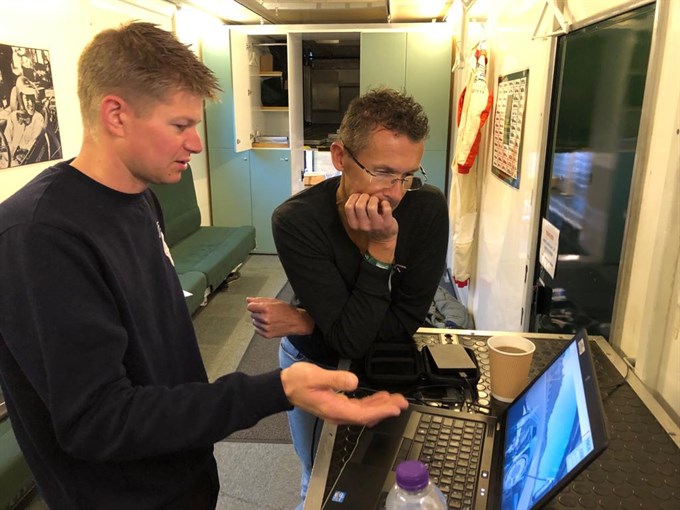 Lee Mowle receiving some driver coaching from Phil Keen 
Historic Grand Prix Cars Association
Andrew in his Lotus 18 in a dry Friday Qualifying session grabbed an excellent pole position on the grid for Race 1 on Saturday afternoon.  Well done, Andrew!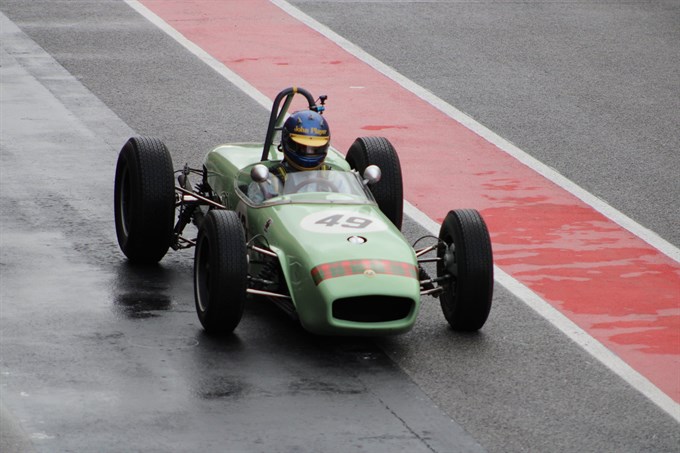 Andrew Beaumont in his Lotus 18
The wet Race 1 came to an abrupt end for Andrew on lap 2 when he was T-Boned by a Bugatti T35B – of all things - taking him out of the race. A fine effort by the CTL crew saw the car was repaired and ready to compete in Race 2 on Sunday. Andrew had to start in 22nd position, in very wet conditions. Despite this, Andrew gained some 9 places to finish in 13th place; a sterling effort on his part.
Well done to Chris and the team for a successful end to a successful season, as the historic motorsport calendar continued its recovery from the effects of the pandemic.  And a special thank you to Charlie Catchpole for driving the CTL transporter for the long haul there and back, complete with the complications arising from Brexit and Covid.  Charlie made it back to Hethel on the Wednesday after Portimao, so the cars are all unloaded and back in the workshop, enabling the winter overhauls programme to get underway.
Tags