News Headlines
Classic Team Lotus Greetings
We send you our best wishes for Christmas and 2021. We thought you would be interested to see what we have been up to, so we gathered together a selection of what has been keeping us busy. It was not what we had planned, but we have managed to be as productive as ever.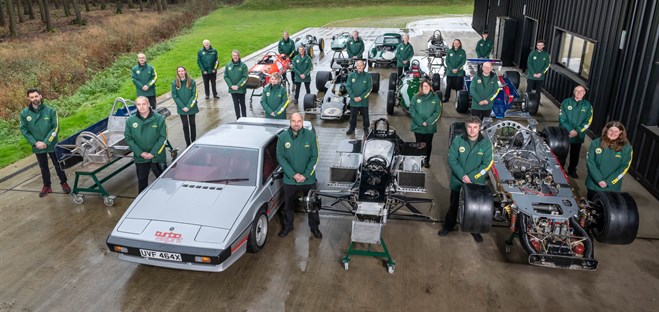 (Click photo to enlarge)
Paul Banham, Richard Parramint, Bob Dance, Harvey Boore, Jeremy Peirson, Nick Yallop, Freddie Laker, Aaron Banks, Clive Chapman, Chris Dinnage, Mark Rudling, Steve Jest, Paula Willis, Katrina Savage, Lucie Sayers, Steve Allen, Tim Gardner, Rob Ashley, Ted Fiddy, Lewis Cullington and Jane Chapman; all have played their part in realising lots of significant achievements, both at base and further afield.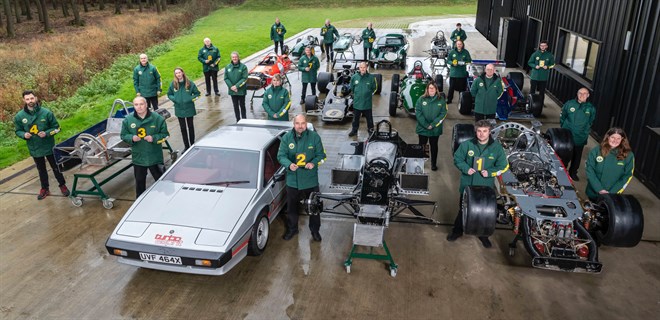 (Click photo to enlarge)
The cars are as follows:
12/301; the 1956 Motor Show car, now finished, at long last
33/R11; Jimmy's 1965 Championship car, restoration ongoing
Elite LX; 1960 Le Mans, unique 2 litre, restoration ongoing
72/9; Ronnie's 72, readying to run with all the 72s, sometime….
38/8S; Graham's 38 from 1967, restoration ongoing
72/7; Emerson's most winning 72, restored to how she should be
6teen/364; not in restoration, but we needed a '6', somehow (!)
81/5; construction completed, 40 years on
81/4; Mario's 1980 Monaco shunt, repair underway
S3 Esprit; driven by ACBC, acquired by Lotus Cars, refreshed by CTL
78/2; another addition to the Works Collection, restoration ongoing
56B/1; on the brink of running again, 50 years on, in 2021
As you may have noticed, with one or two somewhat tenuous stretches, our assembly of Work-In-Progress enabled us to contrive the Classic Team Lotus Twelve Cars of Christmas!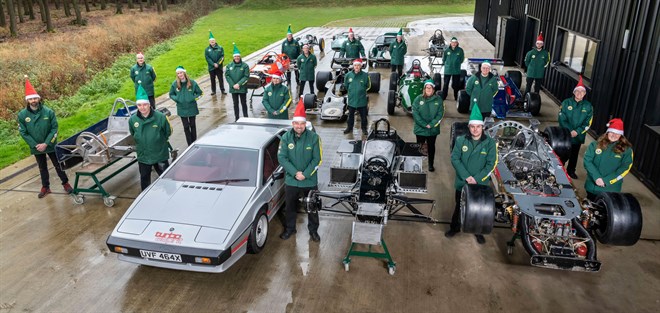 (Click photo to enlarge)
Having got into the Christmas spirit with the Twelve Cars, we went the whole hog by donning the Santa hats, for what could be called a Ho-Ho-Hocially Distanced team photo.
Team spirit has kept things going at Classic Team Lotus throughout 2020. We hope the spirit of Christmas will endure for you and we send our best wishes for 2021.
Tags