News Headlines
Senna's greatest race was in a Lotus
Racing his Lotus type 97T in the 1985 Portuguese GP Ayrton Senna scored his first ever Grand Prix victory. Autosport magazine's recent article 'Ayrton Senna's 10 greatest Formula 1 races' selected this extraordinary performance as number 1, out of a predictably stellar Top 10.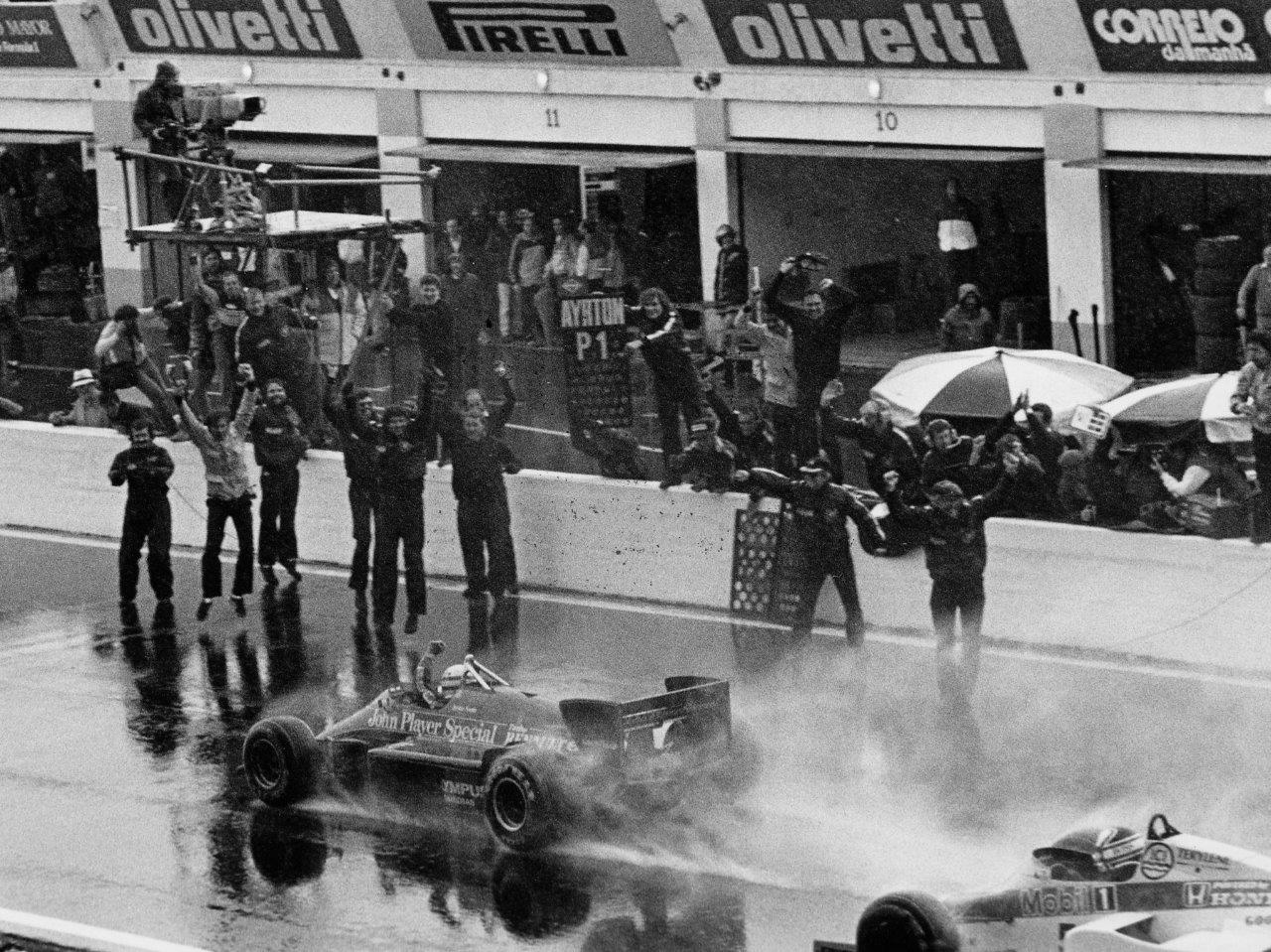 Victorious Ayrton being greeted by an ecstatic Team Lotus crew, dancing in the rain
We cannot disagree with Autosports decision, especially as Ayrton himself considered this win to be his greatest ever race. (8 years later it was suggested to Ayrton that the European GP at Donington was his greatest performance.  Ayrton snorted in reply:  "No way!  I had traction control.  O.K., I didn't make any real mistakes, but the car was so much easier to drive.  It was a good win, but compared to Estoril '85, it was nothing….')
Lotus featured twice in the Top 10, with Ayrton's dramatically close victory at the 1986 Spanish GP racing 98T/3 – beating Nigel Mansell by just 0.014 seconds – coming in at number 9.  (Slightly disappointing that neither of Ayrton's wins in the active suspension type 99T made the cut.)
Follow this link to read the article in full http://classicplus.autosport.com/premium/feature/9071/?_ga=2.174431138.1054140197.1559055976-1054995992.1559055976
The Autosport text relating to Estoril is as follows:
This race was a special one for Senna personally. Not only was it his first F1 world championship victory, it was scored in brilliant style in terrible conditions.
His 1993 European GP performance is more famous, but the win at Estoril was secured without traction control, with a difficult turbocharged engine, and there were more potential winners in the field. Only three teams won races in 1993, but five did so in 1985. And the 1985 Portuguese GP was only Senna's 16th F1 start.
Senna led from pole on an appallingly wet track, completing the first lap 2.7s clear of team-mate Elio de Angelis. The two Lotuses pulled away, with Senna edging clear of de Angelis, before Prost's McLaren moved forward to challenge for second.
Just before half-distance, the rain got so bad that even Senna - now 37s ahead - started gesticulating that the race should be stopped. It wasn't and Prost, who was still trying to pass de Angelis, simply aquaplaned into retirement on the main start/finish straight.
"The big danger was that conditions changed all the time," said Senna, who admitted to surviving one grassy moment of his own. "It was difficult even to keep the car in a straight line sometimes and for sure the race should have been stopped.
"It was much worse than Monaco last year. Once I nearly spun in front of the pits, like Prost, and I was lucky to stay on the road."
Only nine of the 26 starters were classified, around half of the retirements due to spins or crashes, and Senna lapped everyone except Alboreto's Ferrari, which finished 1m03s behind the Lotus. Senna's fastest lap was 0.7s quicker than anyone else's.
"Senna's victory will be remembered as a classic," wrote Roebuck. "It was a mesmeric performance. Without Senna, a lot of the drivers would have impressed with their ability and courage: as it was, they seemed inept, tentative.
"Just occasionally comes a race when one driver makes the rest look ordinary, and this was one such. He was in a different class right from the green light."
Classic Team Lotus is proud to maintain 97T/2 – the race winning chassis - in the Works Collection, in running condition and in Estoril spec, even down to the EF4 specification Renault Turbo engine.  Back in 1985, on the famous day, Chris Dinnage was number one mechanic on the car.  Now, as Classic Team Lotus Team Manager, Chris gets to drive her; always a special moment for Chris and the team. 
29/05/19
Tags