News Headlines
Classic Team Lotus at Goodwood Festival of Speed 2017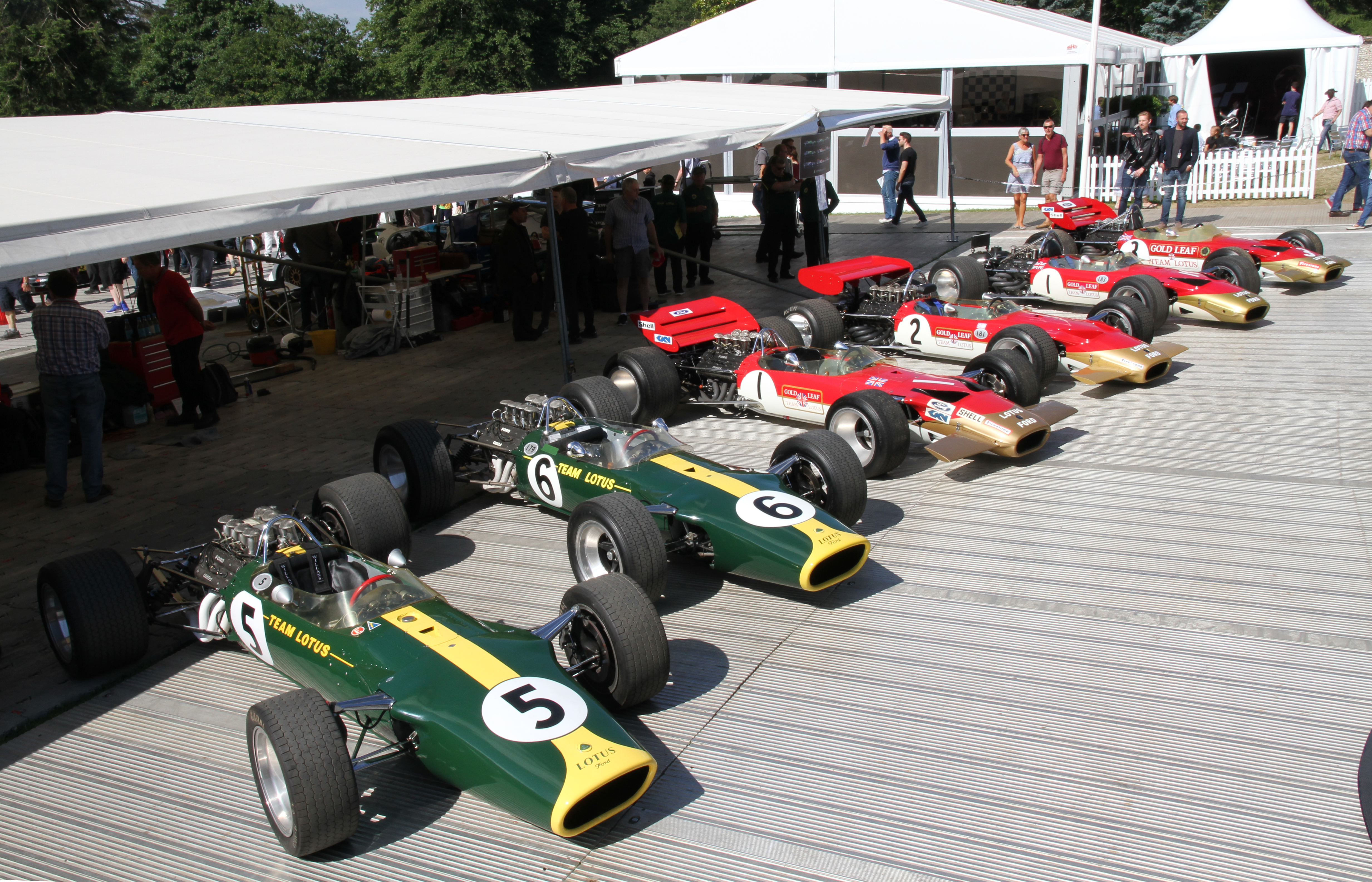 Once again Lord March and his amazing Goodwood team did the Lotus Marque proud, at the fabulous Festival of Speed.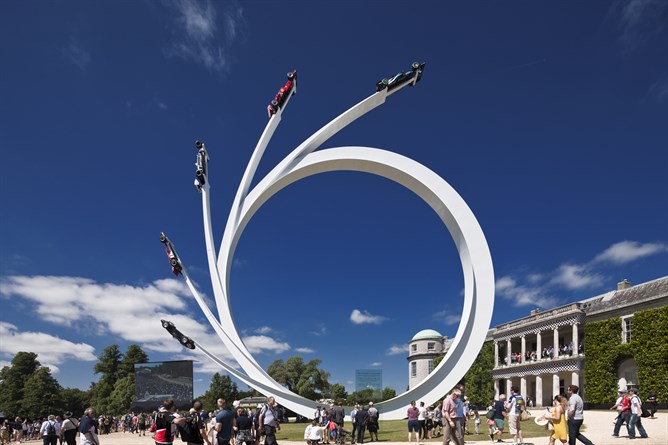 Another extraordinary Gerry Judah creation by Littlehampton Welding
Front of house – just outside his Lordship's front door – was a monument to Bernie Ecclestone of epic proportions, featuring a Jochen Rindt liveried Lotus type 72, provided by Classic Team Lotus (prepared for display by new team member Rob Ashley).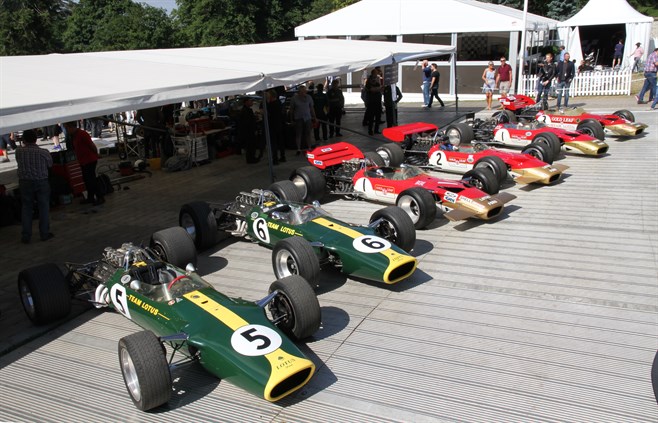 Sunday morning at Goodwood; the six surviving Works Team Lotus 49s!

Highlight of the Main Paddock – for Lotus fans – was a gathering of all the six surviving Works Team Lotus type 49s.  Bob Dance ran R2 for American owner Chris MacAllister while Andy Claydon ran the Chapman Family R5/R10 for Dan Collins.  The National Motor Museum ran R3, Richard Mille had R6 and R12 there for display and Adrian Newey drove his R8 up the hill.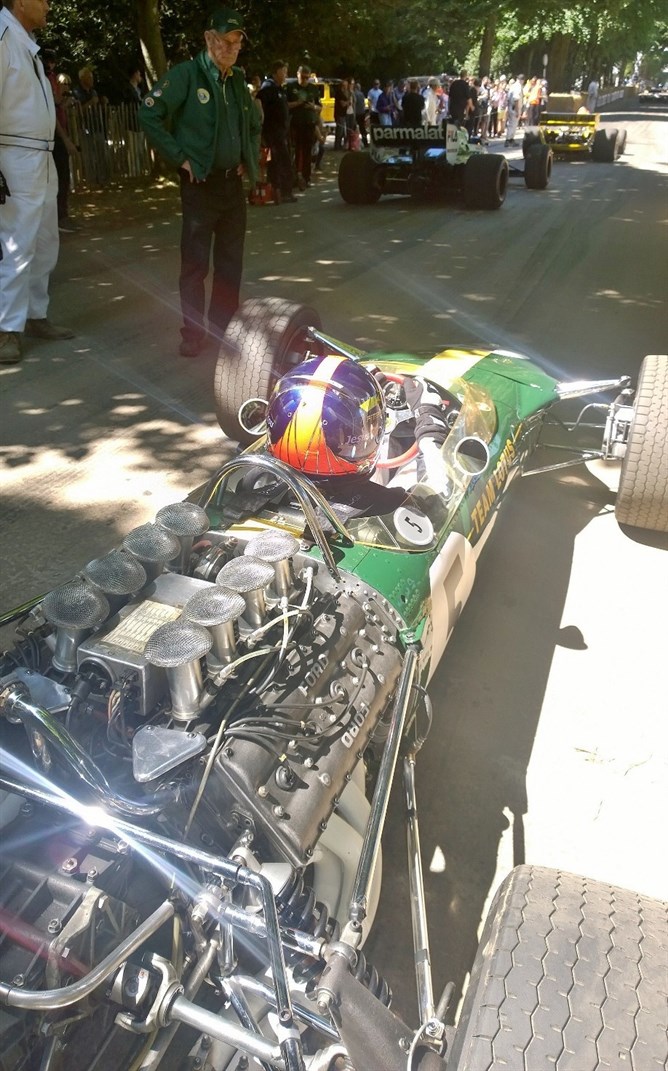 Bob Dance attending Emerson Fittipaldi at the start line in 49/R2

Sunday saw a special moment when Chris MacAllister invited Emerson Fittipaldi to drive R2.  As a young boy in Brazil, Emerson's hero was Jim Clark, so he always jumps at the chance to drive any of his cars.  (Clive Chapman was honoured to do the run in the afternoon.)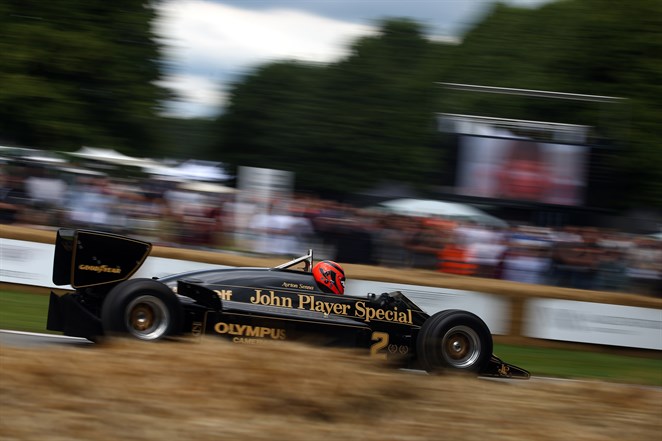 97T/2 is a beautiful Lotus and she is running beautifully

Meanwhile Kevin Smith ran Ayrton Senna's 1985 Team Lotus type 97T/2 for Lee Mowle.  Chris Dinnage and his team have this 1.5 litre turbo charged beast running like clockwork, even in the challenging circumstances of Goodwood, and it was great to see and hear Lee giving her the gun – to a sensible degree - up the hill.

(As ever, a big thank you to Uncle Henry Potter and Paul Stephens for their generous assistance.  Team Lotus was all about the unfair advantage and their local knowledge has always given Classic Team Lotus the edge at Goodwood, their very lovely backyard.  And thanks to Wayne, at Polygon transport, for help with challenging logistics for the team, on what was a double-header weekend, with the Masters meeting at Magny Cours.)


Tags