News Headlines
1-2 finish for Classic Team Lotus at the Canadian GP
Greg Thornton, Chris Dinnage, Andrew Beaumont and Katsu Kubota flew the Team Lotus flag in the finest of styles at the Canadian Grand Prix
Classic Team Lotus drivers Katsu Kubota and Greg Thornton evoked the Team Lotus glory days, this weekend in Montreal, finishing first and second in the Sunday feature race for the Masters Historic F1.

Greg Thornton and Katsu Kubota leading the field at the start of Race 2.

Furthermore, in the first race on Saturday, Greg won, Katsu came third and Andrew Beaumont joined the party by finishing a fine fourth.
In front of the packed grandstands on the Sunday, the dicing black and gold cars of Greg and Katsu were the highlight of the action-packed Masters F1 grid of 24 F1 cars, from the 70s and 80s.
Classic Team Lotus drivers chose to livery their JPS cars with Classic Team Lotus and ACBC, in place of the period tobacco branding.
Team Manager, Chris Dinnage, reports a busy weekend for the team of mechanics; Kevin Smith (1977 JPS Lotus type 78, ex Gunnar Nilsson), Tim Gardner (1980 Essex Lotus type 81, ex Andretti/De Angelis/Mansell) and Kevin Fiddy (1982 JPS Lotus type 91, ex De Angelis/Mansell).
As ever, the impressive grid of three litre F1 cars attracted a lot of attention from both the F1 fraternity and the appreciative Montreal spectators alike.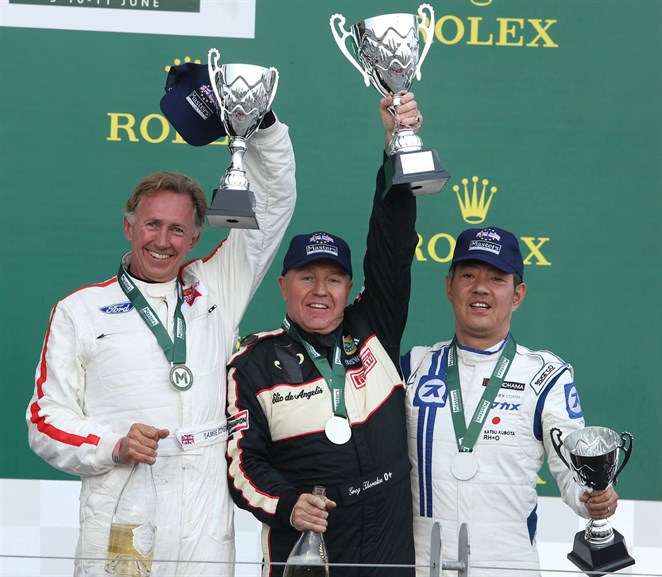 Greg Thornton and Katsu Kubota celebrating on the podium after the Saturday race; so close to a Classic Team Lotus shut-out, with Andrew Beaumont finishing a fine 4th place.
Tags