News Headlines
Jim Clark Revival 2016
16/03/16 - 15th - 17th April. The Jim Clark Revival takes place again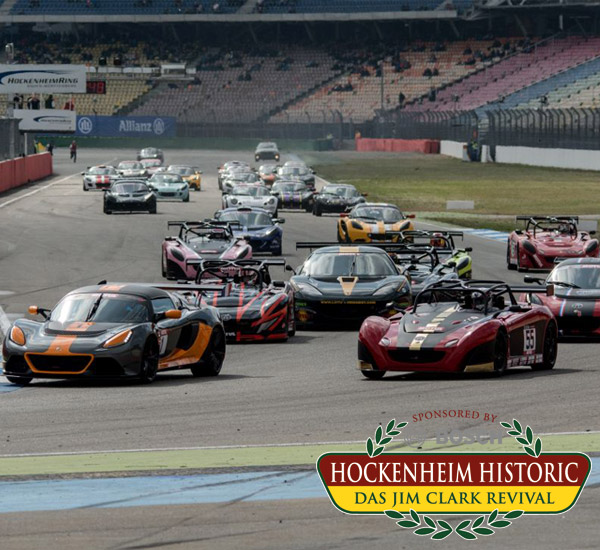 We are pleased to share this press release about the Jim Clark Revival 2016 from Siegfried Herrmann of Club Lotus Germany.
As every year Motorsport and Lotus fans and friends from all over Europe will gather around this event at the Hockenheimring- an emerging positive appeal to all of us, and I am very glad about this development.
There will be many very interesting racing series fighting and we will have three days outstanding motorsport fun! Especially for Lotus fans I would like to recommend Lotus Cup Europe under the direction of Paul Golding. Please have a look at their website. For tickets and drive through permits you have applied for at www.hockenheim-historic.de you will find me dispatching them at the Conti roundabout.
2018, April 7th will be Jim Clark's 50th day of death and many enthusiasts will commemorate this special day. The opening of the Jim Clark Museum in Duns Scotland is planned to be at that date. Many celebrities of motorsports and Lotus will be attending.  For that reason I established a Jim Clark Foundation Germany to collect donations for the museum. All donations will be collected on the Jim Clark Foundation account until 2018, to present the amount of money in my role as Lotus Ambassador Europe to the opening of the museum as Lotus.
As a start I created together with our photographer Mrs. Elfi Jung a Lotus Foto Calendar exclusively for Lotus and the Jim Clark Revival for 2016, and we already sold them! So I would like to thank you very much all for your support up to now. Elfi and I will continue to create the Lotus Foto Calendar for 2017. Besides Lotus racing machines this time we will widen up our photo project concerning Street Lotus Sports Cars- so look out for us whirling around during Jim Clark Revival. 
For further information about the event or the Jim Clark Foundation Germany please e-mail: s-herrmann@t-online.de
Tags