News Headlines
Jack Sears
24/08/16 - We are saddened to learn of the death of Jack Sears on Saturday 6th August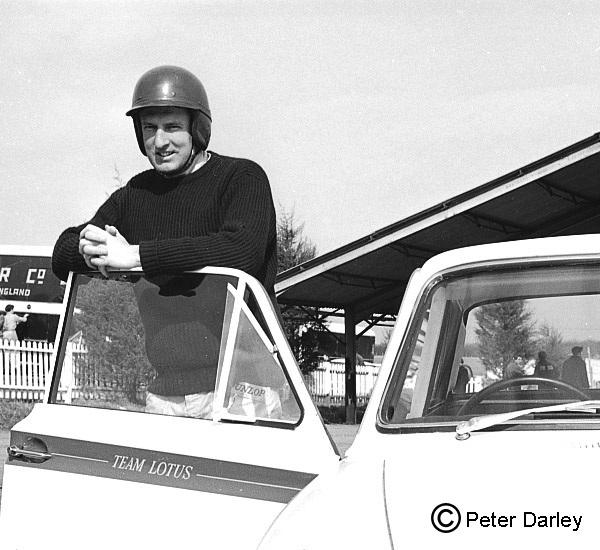 Steve Allen and Bob Dance attended the funeral as representatives of Classic Team Lotus and said that it was a fitting send off for such a gentleman.
Jack was born into a motoring family, his father Stanley having a particular passion for veteran and vintage cars and ultimately became President of the Veteran Car Club of Great Britain.
From his first race in 1950 with an MG TC at Goodwood and various competitive events in his father's ex-Dario Resta 1914 TT Sunbeam, Jack progressed through a variety of typical '50's sports cars – in particular a Cooper-MG and a Lister Bristol – before beginning an association with the British Motor Corporation, first with an Austin A50 in the 1956 Monte Carlo Rally before acquiring the Austin A105 Westminster with which he won the first British Saloon Car Championship in 1958, after a shootout with Tommy Sopwith in a pair of Riley 1.5s at Brands Hatch.
For the next few years until Ford came calling for 1963, Jack became one of the outstanding drivers of saloon and GT cars in British racing at the wheel of Tommy Sopwith's Equipe Endeavour Jaguar 3.4 and 3.8 saloons, Jaguar E-type, Aston Martin DB4GT and Ferrari 250GT Berlinetta. His duel with Colin Chapman's John Coombs 3.8 in the saloon car race supporting the 1960 British GP at Silverstone will never be forgotten by those who witnessed it; in later years Jack could recall with precise details how it was that the Lotus founder pipped him to the post.
In 1963 Jack won his second BRSCC title, mainly with John Willment's vast NASCAR Ford Galaxie, supplemented by some races in a Ford Cortina GT and Lotus Cortina. He was also invited by Maranello Concessionaires to share a Ferrari 330LMB at Le Mans with the late Mike Salmon which was rewarded with a class win and a fifth overall.
Tags