News Headlines
Plaque unveiled at Cheshunt
03/06/15 - Lotus enthusiasts, Malcolm Ricketts of the Historic Lotus Register plus David Morgan & Tony Scales of the 750 Club placed a plaque celebrating the 1965 Indy 500 win on the factory wall at Delamare Road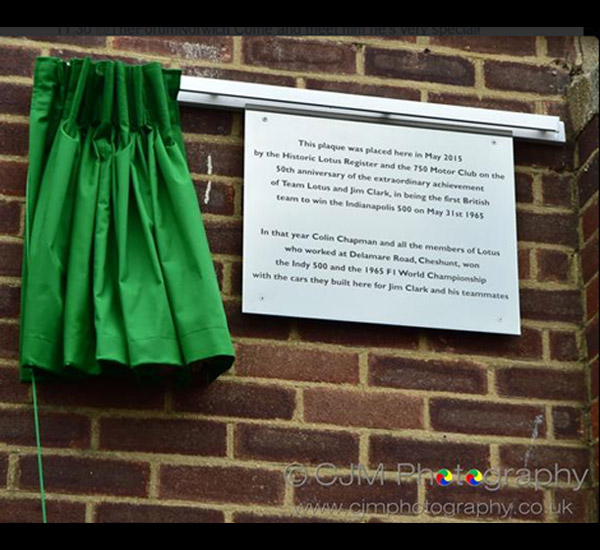 It's difficult to imagine now, that unprepossessing red-brick industrial building producing a string of racing cars like that – each astounding in their beauty and outrageous in their performance. Formula One, Formula 2, Formula Junior, Formula 3, Indy, Sports cars, Lotus Cortinas, Sevens, Elans… It was a golden age not only for Lotus but also for British motor racing and Great British Sports Cars. It looked Sixties-slick back then, with Colin Chapman in his neat suits and sports jackets, Jim Clark carrying his leather briefcase and the boys all bedecked in white coats. It was the epicentre. It was motor racing.
It is no more. That Lotus has long since disappeared. Chapman vacated Cheshunt at the end of 1966 and opened a new factory in Hethel, Norwich. The historic buildings, though, remain. One of them is now an enormous, well-stocked weight-lifting gym – full of life, full of people. The other sits quietly. Cheshunt's roots were sunk in WWII, when Italian prisoners-of-war populated the market gardens and greenhouses. Cheshunt came under the heading of "rural". Now the greenery is fading but the solitude is returning, perhaps for ever.
And so they gathered, many of the original Cheshunt staff, plus Hazel Chapman, whose father owned land in the area, and Clive and many Lotus stalwarts like Mike Costin (who went on to found Cosworth with Keith Duckworth), Warren King, the Lotus accountant, Dick Scammell, Bob Sparshott, John Miles, who raced for Team Lotus from 1968, and also Dougie Niven, Jim Clark's cousin and key member of the Jim Clark Trust. Under the auspices of the 750 Motor Club (of which Colin was an enthusiastic member from the start) and the Historic Lotus Register, and in front of this dazzling personnel line-up, Hazel Chapman was invited to pull the cord…
To view the footage of the unveiling please visit the Peter Windsor blog.
Tags