News Headlines
A very unusual Lotus...
01/06/15 - Lotus club revs up IndyGOGO500 Dragon for local charity BREAK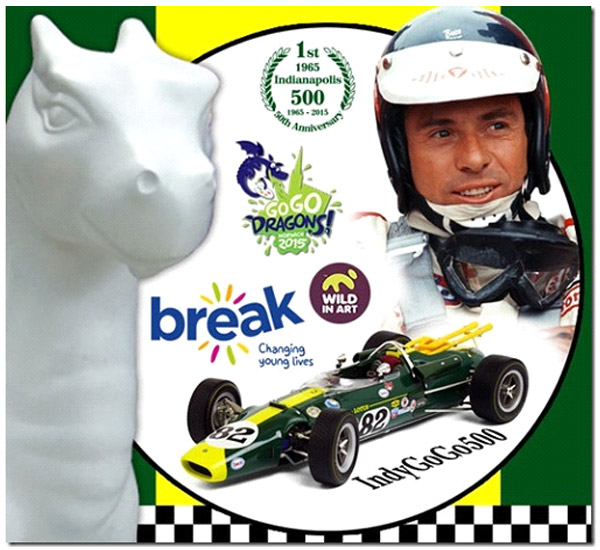 The East Anglia Lotus Club, the region's premier club for Lotus enthusiasts, is celebrating the 50th anniversary of Jim Clark's famous Indianapolis 500 race win in 1965 with a 'Lotus Jim Clark Day'. It is taking place at the Norwich Forum Amphitheatre on Sunday 7th June 2015 between 10 a.m. and 4 p.m.
On show will be Jim Clark's championship-winning Tasman series race car – but that's not all! Accompanying it will be the IndyGoGo500 Dragon in the racing livery of the Indianapolis car piloted by Jim Clark when he achieved his historic success for Colin Chapman's legendary Lotus race team.
Come and see the IndyGoGo500 Dragon being unveiled at 11.30 by its creator and artist, Owen Wright, who is a Lotus club member
In addition there will be an enviable display of Norfolk's finest Lotus sports cars provided by members of the East Anglia Lotus Club which will include examples of the delightful Elan, eye-catching Europa, nimble Elise, iconic Esprit, rare Eclat Riviera, desirable 'new' Elan, and the four-seater Excel.
Lotus enthusiasts can join the East Anglia Lotus Club, Club regalia items will be on sale, and best of all the whole event is free to attend!  It promises to be a truly unique spectacle! Don't miss it!
Indy GoGoDragon is part of the GoGoDragons! 2015 Wild In Art event and one of over 80 dragons that will be seen on the streets of Norwich between June and October 2015 before eventually being auctioned in aid of the children's charity, BREAK.

Mayday, the only independent Ricoh supplier in Norfolk, supporting Colour Photocopiers, Printers and Scanners.
We are also facilities and Print Management Solutions providers. Over the years we have forged strong IT/Multifunctional Print support relationships with companies ranging from family run businesses, through to multinationals. Our success is simply based on the sound principle that our solutions are tailored to client requirements combined with a strong service ethic.
MaydayIT Division, established over 30 years ago supporting companies in Norwich and Norfolk and beyond.
With highly trained Microsoft Certified Technology Specialists, we offer impartial advice and consultancy focused on delivering efficiencies and managing costs, whilst taking advantage of the latest technology.
Mayday is also a supplier of Office Products and Furniture, delivering the best value for our customers' needs. We offer a complete range of over 40,000 products covering everything from office paper, catering and cleaning supplies to bespoke furniture.
We pride ourselves on being a Norfolk based and run company working with, and supporting, the local business community. We are very pleased to be supporting Break and the marvellous work that they do.
We are looking forward to the unveiling of our Dragon, IndyGoGo500, inspired by Classic Team Lotus who are keeping Norfolk's Motor Racing Heritage very much alive.
Tags