News Headlines
A Record Breaking Silverstone Classic
28/07/15 - Over 100,000 spectators visited the famous circuit over the weekend, a record breaker for the events 25th year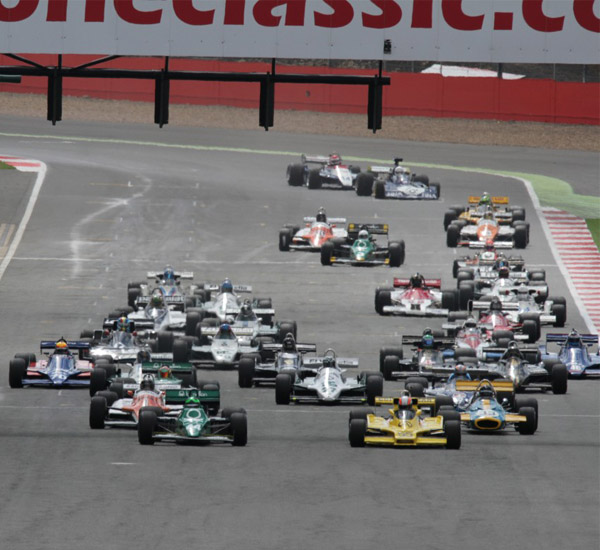 The FIA Masters Historic Formula One Championship put almost 40 cars on the grid, along with over 55 cars on the FIA Formula Junior and 45 Pre-66 cars on the HGPCA grids
MASTERS: The Lotus 91 duo Greg Thornton and Dan Collins lined up on a track for Friday's qualifying, Greg qualified 10th and Dan 26th on the wet Masters grid. Saturday was a bright sunny day and saw Greg climb up to P5 quickly chasing down the high-speed chain at the head of the race and Dan P15.  In the rain on Sunday, Greg started in 10th and managed to gain one place whilst Dan decided against going out as the rain was very heavy. Greg overall achieved 3rd in class and obtained those all important 4 points to keep him in the running for the championship
HGPCA: In Friday's free practice, Andrew Beaumont went on track with his 24 and disaster struck, leaving him out for the weekend. A decision was made to mad dash back to Hethel to collect Andrew's LDS so he could still compete and the team made it back with 30 minutes to spare! The CTL team will stop at nothing to ensure the drivers have a good weekend.
Meanwhile Dan Collins also prepared for the HGPCA grid with his type 21. Dan qualified in 8th, and the LDS in 28th. A nice dry race on Saturday, Dan had a couple of spins in the car and lost a fair few places, but brought the car home in 20th, Whilst Andrew retired due to a water pipe incident.  On Sunday, after an hour's wait due to heavy rainfall, the cars lined up on the grid. The race started behind the safety car for two laps, the just a further 4 racing laps before the race ended.
FORMULA JUNIOR: Formula Junior achieved yet another stunning line up of 57 cars over the weekend. Andrew Beaumont and Greg Thornton - both in their 22s - joined the grid. Greg qualified in 9th, Andrew 37th. Greg dropped down to 15th on Saturday's race but managed to climb back up to 7th, whilst Andrew drove steady and passed an impressive 17 competitors. Sunday's race was unfortunate with a 6 car shunt at the start of the race. After a wait, the race was restarted behind the safety car for 2 laps with a further 4 racing laps.
To read the full race reports, please visit The Masters Series, HGPCA and Formula Junior websites
Tags