News Headlines
Gator Motorsport Lotus Evora at Indy 500
03/07/14 - Clive Chapman was delighted to be loaned a Lotus Evora for the duration of his recent adventure at the Indy 500.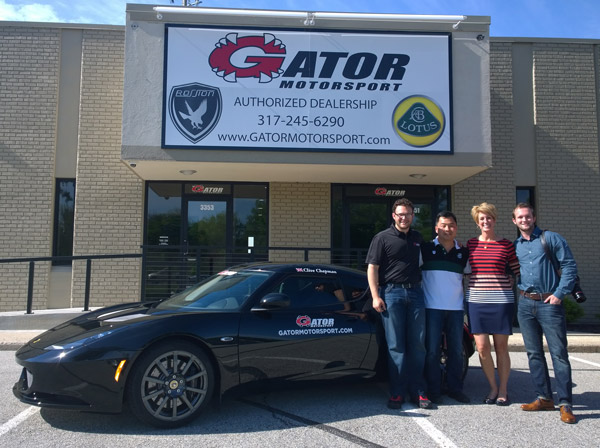 The Gator team - Brian Henry, Young Kim, Missy Chapman and Dustin Kessler.
Young Kim is the principal of Gator Motorsport - the Lotus dealer for the Indianapolis area - and he is a Lotus man through and through.  Clive has known him for many years and has been pleased to welcome him to the Classic Team Lotus workshops on his visits to Hethel.
When Clive collected the car he was somewhat surpised to find his name emblazoned on the roof, but, when in America….  Happily this did not have any repurcussions - other than Martin Donnelly being able to spot Clive's whereabouts on a couple of occasions - and Clive was proud to park the car prominently at the Speedway each day.
Tags