News Headlines
Classic Team Lotus springs a surprise at Autosport International The Racing Car Show 2014
13/01/14 - At this year's Autosport International The Racing Car Show Classic Team Lotus has revealed one of the greatest ever Team Lotus F1 chassis.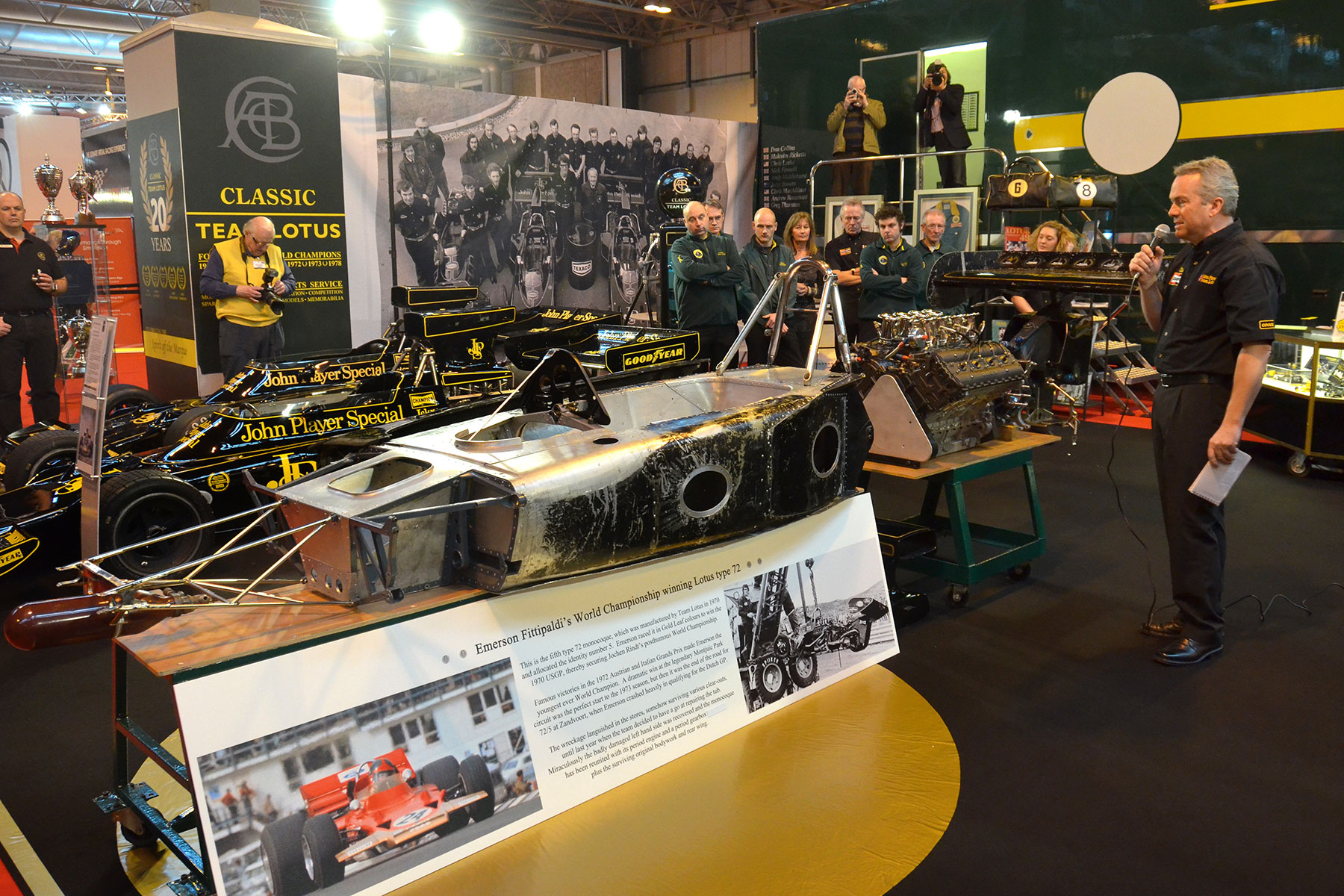 The fifth Lotus type 72 was manufactured by Team Lotus in 1970 and was raced almost exclusively by Emerson Fittipaldi. Emerson raced it in Gold Leaf colours to win the 1970 USGP, thereby securing Jochen Rindt's posthumous World Championship. (Inside the fuel bays and along some panel joins the original red paint is still in evidence.) Famous victories with 72/5 in the 1972 Austrian and Italian Grands Prix made Emerson the youngest ever World Champion. A dramatic win at the legendary Montjuic Park circuit was the perfect start to the 1973 season, but then it was the end of the road for 72/5 at Zandvoort, when Emerson crashed heavily in qualifying for the Dutch GP.
The wreckage languished in the Team Lotus stores, somehow surviving numerous clear-outs, until last year when the team decided to have a go at repairing the tub. Miraculously the badly damaged left hand side was recovered and the decision was made to rebuild the car.
Every care is being taken to preserve the originality of what is such an important part of Team Lotus history. In particular the majority of the monocoque is intact and it is still in its original paint, along with some of the original bodywork. With reference to the original design drawings and with expertise from Team Lotus personnel of the period, the car is being rebuilt to exactly as it raced to Grand Prix and World Championship victory. The monocoque has been reunited with one of its original engines and the gearbox is also period. A lot of the running gear is original and has been condition tested as fit for purpose.
Clive Chapman, Managing Director of Classic Team Lotus: "Given my father's constant focus on the future and the team's perennial battle for more space, it is extraordinary that this car survived for so many years. I think it is a mark of the sentimental attachment that my father, the driver and the team had for her. (The 1973 film 'If You're Not Winning You're Not Trying' includes a nice moment when Colin Chapman explains to wife Hazel about Emerson's emotional attachment to his favourite car). I have really enjoyed the painstaking restoration to date and am keen to show-off the skill of all those involved. We have appreciated the interest of enthusiasts at the Autosport show especially whenever we present relics from the stores and we decided to let everyone see where we have got to with this exciting project."
Tags