Autosport International 2014 - Live Action Arena
Having a blast round the indoor live action arena!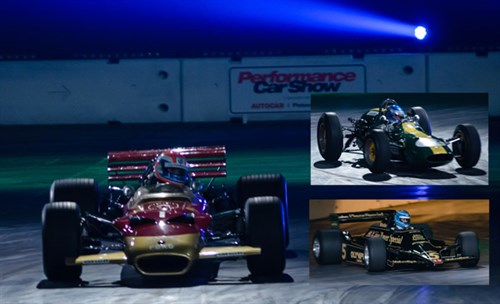 The Live action Arena is the UK's largest indoor racetrack and every year it undoubtedly provides one the highlights of the show. Based in the largest hall of the NEC and seating 5000 racing fans, the Live Action Arena is a unique experience.
Legendary Formula One machinery starred in the UK's largest indoor racetrack, Autosport International's Live Action Arena, in the form of the 32B, 49B and 79.
Raced at the sport's top level by Formula One World Champions including Mario Andretti, Emerson Fittipaldi, Graham Hill, and Jochen Rindt, an iconic Lotus 79 and Lotus 49B will lap the 5,000-seat ampitheatre in each session, in a unique opportunity to experience F1 indoors.

"Seeing, hearing and feeling Classic Team Lotus' iconic Formula One machinery within the Live Action Arena is set to be unmissable," said Ian France, Autosport International Director.

"The Lotus name is synonymous with Formula One, and cars like the 79 and 49B, designed by the legendary Colin Chapman, have played major roles in the careers of some of the sport's biggest names."

Pioneering 'Ground Effect' aerodynamics, the Lotus 79 revolutionised F1 design when it made its debut in 1978. Between them, World Champion Andretti and team-mate Ronnie Peterson won eight of the 16 races as Team Lotus secured its seventh Constructors' Championship.

A decade earlier, another of Colin Chapman's designs, the Lotus 49, was proving the class of Formula One. Between 1967 and 1970 it claimed 19 pole positions, 12 Grand Prix victories, two Constructors' titles and Drivers' titles for Hill and Rindt.

Hill won the Monaco Grand Prix twice aboard Chassis R10, which also gave Fittipaldi his F1 debut. The two Formula One cars will be joined by the one-off Lotus 32B Tasman Car, used by Jim Clark to win the 1965 championship.